Pleasantville
Director(s): Gary Ross
Writer(s): Gary Ross
Cast: Tobey Maguire, Reese Witherspoon, Jeff Daniels, Joan Allen, William H. Macy, J.T. Walsh, Don Knotts, Marley Shelton and Jane Kaczmarek
Reviewed by: Ian Evans on
Release Date(s)
Oct 23, 1998 - Wide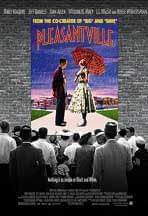 With the President's pants around his ankles and his cigar mentioned during morning TV, some people have again started to raise the call for "family values". They yearn to return to the days when neighbors said hello to each other, children said "Gee whiz", and Ward and June did their best to raise Wally and the Beaver.
What they forget is that the "good old days' also featured communist witch hunts, segregation and racial oppression, and a fear of things that weren't considered normal. Pleasantville, produced, directed and written by Gary Ross (writer of Big and Dave]), manages to take a humorously nostalgic look back while showing us that father didn't always know best.

Twins David (Tobey Maguire) and Jennifer (Reese Witherspoon) are the product of a broken marriage. David is the nerdy brother who loves watching the happy family on the 50's show Pleasantville and Jennifer is the girl who only excels in boys at school. When Jennifer tries to stop him from watching a 24-hour Pleasantville marathon, David accidentally breaks the remote. A mysterious television repairman (Don Knotts) suddenly appears and hands them a new remote that he says is quite powerful. They resume their fight over the remote and are zapped into the black and white world of the TV show.
At first, they don't believe that they're in this 50's world. However, their skin is gray, his hair's slicked back, and she looks like an extra from Happy Days. When the Pleasantville parents, played by Joan Allen and William H. Macy, call them Bud and Mary Sue, they realize that for now they are trapped in this world.
School gives them their first indication that this world is a little crazy. The geography teacher tells the class that only Pleasantville exists, the library books are all blank, and the basketball team cannot miss a basket. The twins start to realize that this pleasant town is completely devoid of passion and stimulation, both mental and sexual. Nothing challenges these people.
Jennifer takes it upon herself to add a little fire to the life of the high school's basketball captain. At a Lovers' Lane where the kids just hold hands, Jennifer gives him a little below-the-belt education. Suddenly he's able to see his first color. Continuing her teaching, Jennifer shows her TV mom (Joan Allen) how to awaken her own sexuality, with explosive results.
Meanwhile, above the belt, David starts to challenge the minds of the townsfolk, including the owner of the local ice cream shop (Jeff Daniels). He gets him to start doing things out of his ordinary routine and as color starts to appear gets him to indulge in a repressed desire to paint.
The basic concept of Pleasantville is interesting enough. It's fun to imagine all the situations that could happen when real people start to interact with fictional folks. This film merely uses this concept as a launching point for a whole bunch of thought-provoking issues. It explores conformity, fear, and passion. One moment it's a straight-out comedy, the next moment it has echoes of Nazi Germany and the fight for civil rights. Director Gary Ross deftly balances these two extremes. It's refreshing to see a film that not only entertains but also serves as a conversation starter for the rest of the night out.
The film is visually exciting and according to the press notes contains more visual effects than Titanic. Special software was used to strip the color from the scenes and then selectively push up the color of certain objects. Ross directs the rainbow of colors much as he would the actors. Each color's appearance has a purpose behind it. Hmm, can the color spectrum be nominated for Best Supporting Actor?

Tobey Maguire and Reese Witherspoon give good performances. Tobey's character, misunderstood and ridiculed in the modern world, grows into a leader with depth and intelligence in the fictional town. Reese's character transforms too, as she discovers that there is some depth behind the sexpot persona she has cultivated in the real world. I've always enjoyed William H. Macy's work and Pleasantville keeps the streak going. He plays the father dealing with the societal changes happening around him and not knowing his place in this colorful new world. Joan Allen and Jeff Daniels also deliver solid performances and I really enjoyed the work of the late J.T. Walsh, who plays the town's mayor. His character embodies all that was wrong with the era and he serves as a reminder that the current family-value politicians are probably cut from the same cloth.
Pleasantville entertains and stimulates on a visual and intellectual level. Its visual effects are stunning, so do yourself a favour and see this film on the big screen.