Ralph Breaks the Internet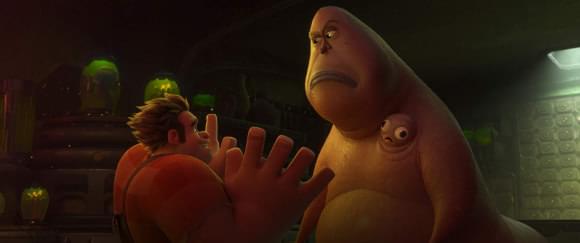 Photo: ©2018 Disney
Director(s): Rich Moore and Phil Johnston
Writer(s): Phil Johnston and Pamela Ribon
Cast: John C. Reilly, Sarah Silverman, Jack McBrayer, Jane Lynch, Gal Gadot, Taraji P. Henson, Alfred Molina, Alan Tudyk and Ed O'Neill
Reviewed by: Ian Evans on
Release Date(s)
Nov 21, 2018 - Wide


Set six years after the video arcade fun of Wreck-It Ralph, Ralph Breaks the Internet catches us up with the great friendship between video game bad guy Ralph (John C. Reilly) and talented young Sugar Rush racer Vanellope (Sarah Silverman). Their days at the Litwak arcade follow the same predictable pattern: perform in their respective games all day and then hang out with their gaming friends in the power bar overnight. Rinse and repeat. This repetition is fine for Ralph, who likes the predictability of his life, but it's starting to frustrate Vanellope, whose races no longer challenge her. When Ralph alters the race course in her game, events lead to a broken steering wheel on the console. Cheaper to shut off than repair, Vanellope and her Sugar Rush team face being homeless.

Litwak's has recently added the internet and when Ralph and Vanellope learn that a replacement wheel can be purchased on eBay, they make the plunge into the hyper and hectic world wide web. Confusing the concept of an auction with high scores, the duo are in need of some serious coin, but of course the net is full of ways to make a quick buck, or so all the pop-up ads continually tell us. When one of those schemes lead the friends to a gritty racing game led by Shank (Gal Gadot), Vanellope sees a world full of challenges that will inspire her, while the ever insecure Ralph sees an end to their friendship.

Directors Rich Moore and Phil Johnston, working off a script by Johnston and Pamela Ribon, explore the characters more than the first Wreck-It Ralph movie, which relied heavily on video game nostalgia. There is a ton of easily mocked elements – video memes, viruses and the quest for likes – but rather than just surf the web, this latest film dives deeper and has the characters explore fulfillment, loyalty and codependency. Emotional insecurity is mined like a software insecurity and Ralph's neediness and smothering is eventually, and literally, multiplied.

The movie not only rolls out references to the expanding Disney universe of Marvel and Star Wars characters, but also manages to turn the camera on its own tropes in regards to its legacy Disney princesses. From Snow White to Moana and Elsa, nothing is sacred in one of the movie's funniest sequences.

There's a lot of fast action and endless distractions and eye candy, but Reilly and Silverman's voice performances add real heart to the proceedings. Reilly is able to convey both the bravado and fear that Ralph alternates between, while Silverman's Vanellope will tug, stretch and pull at your heartstrings while still providing you with laughs. The supporting cast doesn't disappoint either. Gadot's Shank rules her game ruthlessly but isn't one-dimensional. Jack McBrayer's Fix-It Felix Jr., facing new challenges in his relationship with Calhoun (Jane Lynch), voices a famously cheerful character on the edge of losing it, while Taraji P. Henson's Yesss is slick in her efforts to direct Ralph to video meme fame. And once again, the voice work of Alan Tudyk doesn't disappoint as the search engine head KnowsMore.

Like a web browser with multiple tabs open, Ralph Breaks the Internet works on more than one level. There's sugary visual delights for the youngest audience member and food for thought and big laughs for their older siblings and parents.