Rosaline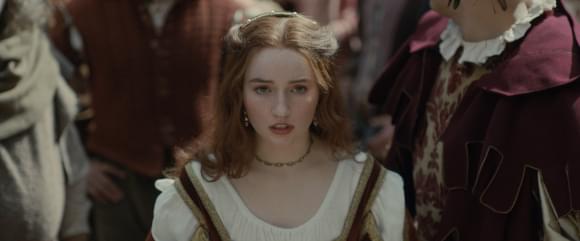 Photo: ©2022 20th Century Studios. All Rights Reserved
Director(s): Karen Maine
Writer(s): Scott Neustadter and Michael H. Weber
Cast: Kaitlyn Dever, Isabela Merced, Sean Teale, Kyle Allen, Spencer Stevenson, Bradley Whitford, Christopher McDonald, Minnie Driver and Nico Hiraga
Reviewed by: Ian Evans on
Release Date(s)
Oct 14, 2022 - Hulu/Disney+


Everyone has heard of the star-crossed lovers in Shakespeare's Romeo and Juliet. Have you ever wondered about the girl he dated before? In the new Hulu/Disney+ movie Rosaline, we get to delve into that story with gusto. While a film like 10 Things I Hate About You brought Shakespearean tropes into the teen rom-com world, Rosaline flips the time machine in the opposite direction, taking teen rom-com sensibilities into a setting worthy of the Avon Theatre.

Kaitlyn Dever play Rosaline, a sharp-tongued independent young woman who loathes the old men her dad (Bradley Whitford) keeps trying to get her to marry. She's in love with the handsome but none-too-bright Romeo (Kyle Allen), who spouts off sweet poetry to her, the only weakness for this otherwise sarcastic and strong-willed young woman. She keeps the relationship hidden with the help of her confidante, Nurse (Minnie Driver), and her bestie, Paris (Spencer Stevenson), as her parents would not approve. She's a Capulet and he's a Montague and, oh yeah, the two families hate each other to death. Literally.

If that wasn't complex enough for a teen to deal with, enter Rosaline's younger and more traditional cousin, Juliet (Isabela Merced). When an unforeseen circumstance delays her return to a masked ball, Rosaline discovers that Romeo has unceremoniously dumped her for Juliet. This sets into motion a plan to get him back, which includes enlisting the aid of the dashing Dario (Sean Teale), the one blind date from her dad that might actually be a suitable catch.

Director Karen Maine and writers Michael H. Weber and Scott Neustadter do a great job mixing the genres, blending Rosaline's modern sensibilities and contemporary musical tastes with the underlying values and plot points of Shakespeare's classic tale. Toss in the locations beautifully shot by cinematographer Laurie Rose, great sets by Andrew McAlpine and lush costumes by Mitchell Travers and you have a feast for the eyes and the funny bone.

I want to know Kaitlyn Dever's weight-lifting routine, as she carries this film without breaking a sweat. Though surrounded by a great supporting cast, Dever drives the action forward in a way that's fun to watch. Minnie Driver is loyal to a fault while also being woefully underappreciated ("I am a registered nurse!") and the only one who can talk back to Rosaline. Merced and Allen are perfectly matched as the all sugar, no substance lovers, while Sean Teale's Dario will have the intelligent audience members wondering what Rosaline sees in that oaf Romeo anyway. Stevenson's Paris and Nico Hiraga's Steve the Courier also do noble work trying to steal the scene they're in.

Rosaline may have been mentioned in passing in Romeo and Juliet, but here she's front and centre. Sure, she'll never be taught about in high school, but you'll have a fun time getting to know her.