She-Hulk: Attorney at Law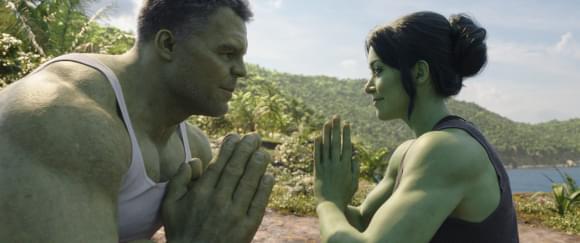 Photo: ©2022 Marvel
Director(s): Kat Coiro and Anu Valia
Writer(s): Jessica Gao
Cast: Tatiana Maslany, Ginger Gonzaga, Jameela Jamil, Josh Segarra, Jon Bass, Renée Elise Goldsberry, Tim Roth, Mark Ruffalo and Benedict Wong
Reviewed by: Ian Evans on
Release Date(s)
Aug 18, 2022 - Disney+


Marvel has entered many realms in its storied universe, but now it takes on the sitcom with the new Disney+ show She-Hulk: Attorney at Law which premieres on the streaming service on August 18th, 2022. Disney gave reviewers access to the first four episodes. New episodes of the series will premiere weekly.

After being involved in an accident with her cousin, Bruce Banner a.k.a. The Hulk (guest star Mark Ruffalo), talented attorney Jennifer Walters (Tatiana Maslany) finds herself transforming into a 6 foot 7 inch superpowered hulk. Unlike her cousin, Jennifer is able to maintain control of her faculties during the change. She isn't able to maintain her job at the district attorney's office, however, but soon finds an offer from a high-powered law firm that's opening up a superhuman division. She heads over with her friend and assistant Nikki (Ginger Gonzaga) and lands a potentially dangerous new client, Emil Blonsky a.k.a. Abomination (Tim Roth), who swears he's reformed and ready for parole.

In the first four episodes, we also meet Jameela Jamil as superhuman influencer Titania and get a visit from a familiar face, the Supreme Sorcerer Wong (Benedict Wong). These opening episodes, directed by Kat Coiro (who also directs episodes 8 and 9), give us some nice background on She-Hulk's origin and her initial struggles to deal with her newfound fame and powers. As in the She-Hulk comics, Jennifer occasionally breaks the fourth wall to discuss her thoughts with the audience and Maslany has a great skill at handling the comedic chores. The Marvel Cinematic Universe can sometimes take itself too seriously, but comic relief has always been a feature. In She-Hulk: Attorney at Law, it's a focus. It also takes jabs at the tabloid media and its spin machine and looks at issues we haven't explored before in the MCU, like how does a superhero find a nice date? It's a workplace comedy with all the usual tropes, except that little difference where one of the employees can throw a boulder hundreds of feet on casual Fridays. Headwriter Jessica Gao has created a fun world of varied characters for She-Hulk to play against.

I enjoyed the first four episodes. If I had one quibble, I'd say that the CGI for the She-Hulk character sometimes feels a little odd-looking but that is probably due to the budgetary or time constraints of the production and after a while I found myself getting used to it. Any issues like that are far outweighed by Maslany's charming performance.