Silent House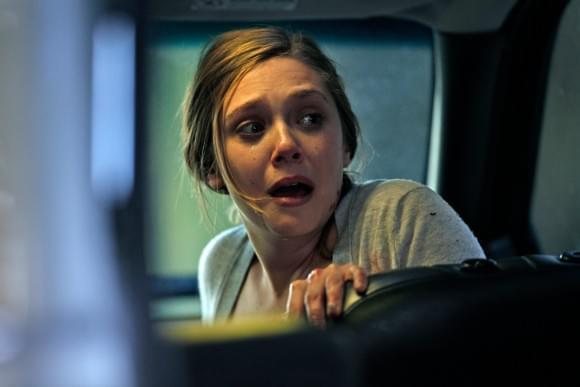 Photo: Image courtesy of eOne Films
Director(s): Chris Kentis and Laura Lau
Writer(s): Laura Lau
Cast: Elizabeth Olsen, Adam Trese, Eric Sheffer Stevens, Julia Taylor Ross, Adam Barnett and Haley Murphy
Reviewed by: Christine Lambert on
Release Date(s)
Mar 9, 2012 - Wide


Imagine being in an abandoned house with no electricity, landline or cell phone reception. The windows are boarded up, the doors are locked from the inside, and only one person has the key and it isn't you. This is the premise for Silent House inspired by the Uruguayan psychological horror thriller, La Casa Muda. Based on a true story that happened in the late 40's in a small village in Uruguay, Silent House is the kind of horror film that plays directly on the audience's fears.

Sarah, played by Elizabeth Olsen, is with her father John (Adam Trese) and uncle Peter (Eric Sheffer Stevens) as they attempt to fix up their summer home that has been invaded by squatters. The many broken windows have prompted the brothers to board up the windows and lock the doors from the inside of the house. Their goal is to fix up the summer home and sell it. Their task seems insurmountable given that there is no electricity, mold is discovered, and the brothers have a rift that sends the uncle storming from the house leaving Sarah and her father alone. Soon, Sarah hears noises from upstairs which prompts her and her father to go on a mission of discovery. When nothing is found, Sarah is left alone to pack up her room. From there, Sarah soon realizes that she and her father are not alone in the house. Having no communication with her father now, Sarah ventures through the house with only a kerosene lantern to guide her way through the seemingly endless hallways in the multi- levelled home.

Silent House is 88 minutes and shot in one seemingly long take although there a re plenty of dark moments where cuts can be hidden. The switch from Sarah's apprehension to full on terror in the house is shown in real time to the audience. As the story unfolds to Sarah, the audience witnesses the action along with her. What starts out as a terrifying home invasion soon turns into a psychological thriller. The tension is very high in this film and it is not for the easily scared. True horror fans however will love the intensity.

Elizabeth Olsen once again proves that she not only has a pure talent not often seen in cinema these days unfortunately, but that she can also carry a film. Her desperation is palpable as she runs through the house trying to find a way out.

Though at first the ending may seem disappointing, your view may be tempered by the fact that the psychological exploration in the movie is based on traumatic real life events.