Star Wars: The Force Awakens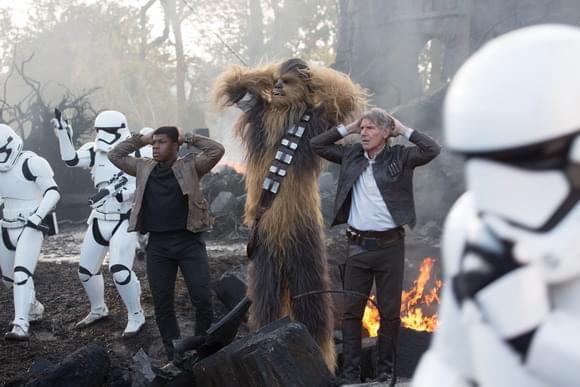 Photo: ©2015 Lucasfilm Ltd.
Director(s): J.J. Abrams
Writer(s): Lawrence Kasdan, J.J. Abrams and Michael Arndt
Cast: Harrison Ford, Mark Hamill, Carrie Fisher, Daisy Ridley, Oscar Isaac, John Boyega, Adam Driver, Peter Mayhew, Domhnall Gleeson, Anthony Daniels, Andy Serkis, Lupita Nyong'o and Gwendoline Christie
Reviewed by: Ian Evans on
Release Date(s)
Dec 18, 2015 - Wide


The original 1977 Star Wars movie was subtitled A New Hope and that phrase could accurately describe what many people were feeling as they entered the theatre for The Force Awakens. A new hope that director J.J. Abrams might save us from the disastrous prequels, where creator George Lucas converted the fun and excitement of the original trilogies into a trio of films that combined geopolitics and emotional angst into a tortured mash-up of C-Span and 90210.

Fans of the original trilogy can rest easy, as Abrams, who also rebooted Star Trek and must now, by extension, reboot Star Search, has made the film that fans would want to see. Abrams, a fan himself who saw the original when he was eleven, hits all the right notes. Various Star Wars tropes are revisited and I won't even spoil those by saying "like when they visit…" as I want you to experience the same sense of recognition I felt as I sat in the preview screening.

Reviewers have been asked by Disney, nay, begged, no…more like threatened, not to release spoilers. As a fan of the series myself, I wouldn't dream of it and anyway, I view spoilers as just a childish boast of "Look what I know that you don't." So what I can say is that the events take place three decades after Return of the Jedi. The Empire is gone, replaced by the fascist First Order, headed by Supreme Leader Snoke (a motion-captured Andy Serkis) whose orders are carried out by the evil and officious General Hux (Domhnall Gleeson) and the evil and Dark Side-wielding Kylo Ren (Adam Driver), a masked thug who must have had Darth Vader posters on his wall when he was a teenager. They're searching for a map that will lead them to the legendary Luke Skywalker, but the also re-branded Rebel Alliance, now called the Resistance, has given the map to an ace pilot, Poe Dameron (Oscar Isaac).

As a reboot that's meant to welcome old fans to new stories and bring new fans up to speed, there are echoes of the original story in The Force Awakens. Like Leia passed on maps to R2-D2, so does Poe pass them on to the merchandising-ready BB-8, a fearless rolling ball of a droid. From there we meet a deserting Stormtrooper, Finn (John Boyega) and a plucky scavenger, Rey (Daisy Ridley), who find themselves smack dab in the middle of the action. Just like a young farm boy from Tatooine found himself battling forces much larger than him, so these two also embark on an epic journey that brings them into contact with Han Solo (Harrison Ford) and Princess, now General, Leia Organa (Carrie Fisher).

The Force Awakens is a perfect blend of the old and the new. Ridley, Boyega and Isaac are more than capable of carrying the adventures to come, while the returning Star Wars cast isn't just passing by in cameos. Carrie Fisher's Leia always knew the importance of her mission, but now she has the weariness of a general that has seen it all and lost too many. Harrison Ford seems to be having more fun on-screen than he has had in years as Han Solo returns to his roguish smuggling ways of witty banter and quick-thinking negotiations. Time has passed, however, and Ford also gives us a Solo with regrets.

Maybe that's J.J. Abrams gift to the franchise. Directing actors. George Lucas is legendary for not directing actors well, if at all, which is why the Irvin Kershner-directed The Empire Strikes back often edges out A New Hope in ranked lists and why we try to forget the Lucas-directed performance of Hayden Christensen, where we learn that Darth Vader was actually carved out of pouting wood. Abrams also makes great use of practical effects, which is movie speak for effects produced physically, without computer-generated imagery. Yes, there are green screen CGI effects here, but there are also real sets and real locations, like the glorious shots in Abu Dhabi, that give The Force Awakens a realness the prequels didn't have, as Lucas layered them with so many CGI effects that they began to look like video games. Cinematographer Dan Mindel gives us so many beautiful shots, whether we're looking at epic landscapes or intimate moments. The 3D world is immersive and not distracting.

Abrams and Empire/Jedi scribe Lawrence Kasdan rewrote an initial script by writer Michael Arndt and unlike the political heaviness of the prequels, we get back heart, adventure and comedy in perfect doses.

Star Wars took place a long time ago in a galaxy far, far away. With a 2017 release date for Episode VIII, we don't have to wait too long for the adventures to continue.