The Call of the Wild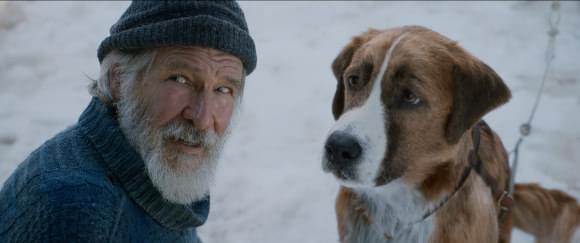 Photo: ©2020 20th Century Fox
Director(s): Chris Sanders
Writer(s): Michael Green
Cast: Harrison Ford, Omar Sy, Cara Gee, Dan Stevens, Bradley Whitford, Karen Gillan, Michael Horse, Jean Louisa Kelly, Colin Woodell, Adam Fergus and Abraham Benrubi
Reviewed by: Ian Evans on
Release Date(s)
Feb 20, 2020 - Wide


Based on Jack London's 1903 novella, The Call of the Wild is the story of Buck, a St. Bernard/Scotch Collie dog. Buck is living the good life in California, at the home of Judge Miller (Bradley Whitford), when he's dognapped and shipped off to the Yukon. The area is gripped by the fever of the Klondike Gold Rush and there's a need for powerful dogs to move men and materials. He finds himself in the employ of Perrault and Françoise (Omar Sy and Cara Gee), who operate a dog sled team that delivers mail along the Yukon Trail. It's perilous work and Buck soon becomes an invaluable member of the team. When the mail route gets shut down, Buck ends up working for a cruel, dim-witted and ill-prepared trio of prospectors who put the dog team and themselves in mortal danger. When his path crosses with a man escaping his demons (Harrison Ford), Buck begins his real journey of self-discovery.

The Call of the Wild is family-friendly fare with only a few scenes of peril that might scare younger viewers. Buck is a wonderful lead character and it's very easy to start rooting for him. He's supported by some great human co-stars. Omar Sy's Perrault is a kind and optimistic giant of a man, who sees Buck's potential early on. Cara Gee's Françoise is a little more aloof to Buck's charms but warms to him when a situation proves his strength and loyalty. Dan Stevens goes full on Snidely Whiplash for his role as an opportunistic idiot with a vicious streak leading his friends into peril on a quest for gold. However, Buck's strongest human experience is the time he spends with John Thornton (Harrison Ford), who is in the Yukon more for the isolation than for the gold. Ford's Thornton is gruff and weary and drinking himself numb, but since their first encounter, he has a connection with Buck, two lost creatures looking for an answer. Ford's Thornton has a transformation when he's around Buck and Ford plays it with quiet strength. Considering most of his scenes are opposite a dog, Ford plays well off his co-star.

But wait. Ford wasn't doing those scenes opposite a bear of a dog. He was doing them opposite Terry Notary, an actor and stunt coordinator in a motion-capture suit. Unlike Rin Tin Tin and Lassie, Buck isn't a real dog, but instead a CGI creation of the visual effects team, the same team whose work is so stunning that you'll be shocked to learn that the movie wasn't shot in the continent's northwest corner, but rather on a soundstage in LA. Just like the recent Lion King remake, the animals in this film are photo-realistic animations and that's maybe where some audiences will split on the film, We accept an angry green Hulk because we know he's a complete fabrication. We accept traditionally animated animals talking because their whole world is focused on suspending our disbelief. Yet some people find it jarring to see a photo-realistic dog interacting in a real setting with real people. Perhaps it's because the human/dog relationship is such an ancient primal thing and knowing the actor isn't hugging and petting man's best friend but a bunch of pixels throws us off a bit.

I enjoyed myself and rooted for Buck and his positive relationships while silently hissing at the villains, but I relaxed and gave myself over to the story. The youngest viewers, for whom suspension of disbelief is easy, will have no problem accepting Buck and the other animals. If you sit back and enjoy, you shouldn't have a problem either.