The Gift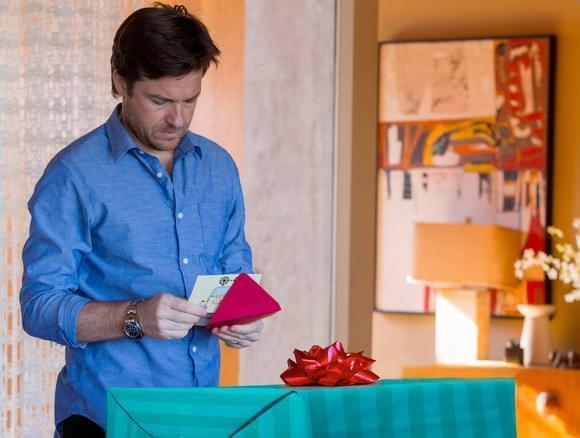 Photo: © 2015 STX Productions, LLC. All Rights Reserved
Director(s): Joel Edgerton
Writer(s): Joel Edgerton
Cast: Jason Bateman, Rebecca Hall, Joel Edgerton, Allison Tolman, Busy Philipps, Beau Knapp, Wendell Pierce, David Denman and Katie Asleton
Reviewed by: Christine Lambert on
Release Date(s)
Aug 7, 2015 - Wide


There are people and experiences in life that will mean more to you than the other participants in those particular events. It works the other way around too. Have you ever run into someone by chance and they call your name, recite facts about you, but you just can not place the name or the face? Short of an extreme makeover, that is probably because what you mean to them is far more relevant than what they mean to you.

Jason Bateman plays Simon, who with his wife Robyn (Rebecca Hall), has just bought a new house after moving back Los Angeles where Simon grew up. Simon is on the verge of a promotion at work while Robyn, who works at home, is coping with a recent miscarriage. Shopping together, they run into a person Simon went to high school with, Gordo played by Joel Edgerton. Simon doesn't recognize Gordo at first, but clues in with Robyn's introduction. Content with the chance encounter not developing further, Simon is surprised when a bottle of wine from Gordo is waiting for him on his doorstep. This gesture represents the starting point where the truth about all of their intertwining relationships unravel.

The Gift, which was written by Edgerton, also marks his feature film directorial debut. The script for The Gift is so well thought out and concise that it doesn't leave questions for the audience once the movie is over. Every detail is so well examined and executed that one imagines Edgerton spent much time toiling away at alternate aspects and outcomes. What also makes this script so great is that the nature of the film is thought-provoking. Many thrillers rely on robust orchestras and sound effects to engage and make the audience jump. But what sets The Gift apart from those films is that the scary aspects could theoretically happen. While Simon had left high school and went on to a successful career and married a lovely person, Gordo's trajectory was stunted in high school. At one point, Simon comments how some people, referring to Gordo, never change from high school, a statement that is dripping with irony as the movie shows.

The film centres on the three main characters whose own personal journeys within the movie reveal much about their personalities as the movie unfolds. Bateman's portrayal of Simon at first seems practical, as his reactions to Gordo's attention seem normal. But as the movie progresses, a much colder character emerges. Bateman's departure from the comedies he is known for is a wonderful look at the talent and range this actor has.

Hall's take on Robyn shows a women marred by the sadness of her miscarriage and her somewhat lonely existence in a huge house when Simon is at work. Her take on Gordo's attention is completely different from Simon's, revealing a kinder person than she married. It also reveals that Robyn's judge of characters is not as astute as she would like to think. Hall plays Robyn with the vulnerability of an explorer looking for new lands, but finding things along the way that take her into frightening territory.

Edgerton's portrayal of the awkward, eager to please Gordo is difficult to watch because Gordo is played with such honesty and truth. Edgerton plays the needy Gordo to heartbreaking perfection. His actions reflect someone whose development has been put on a 20 year pause. Once his attention is rejected, Edgerton explores another aspect of Gordo's personality that shows the anger and hurt that results from being discarded.

More than just a thriller, The Gift shows the consequences of one's actions. Edgerton takes the dark side of human behaviour and presents The Gift as a cautionary tail of how one should treat their fellow man.