The Night Before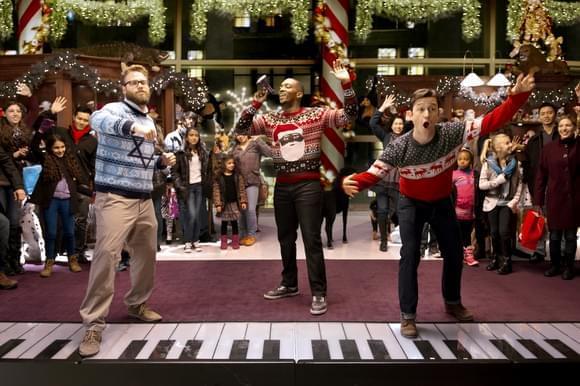 Photo: ©2015 Columbia Pictures
Director(s): Jonathan Levine
Writer(s): Jonathan Levine, Kyle Hunter, Ariel Shaffir and Evan Goldberg
Cast: Joseph Gordon-Levitt, Seth Rogen, Anthony Mackie, Lizzy Caplan, Jillian Bell, Mindy Kaling, Michael Shannon, Lorraine Toussaint, Randall Park, Ilana Glazer and Nathan Fielder
Reviewed by: Ian Evans on
Since losing his parents to a drunk driver 14 years ago, Ethan (Gordon Joseph-Levitt) has had a surrogate family in the form of Isaac (Seth Rogen) and Chris (Anthony Mackie), two high school buddies who made sure he had a good Christmas that year. For the last fourteen years, the trio have kept up the tradition of eating Chinese food, checking out the tree at the Rockefeller Center, and singing Run-DMC Christmas karaoke.
Ethan's life has stagnated. He's an event waiter dressed as an elf, his musical aspirations seem to be on hold, and his fear of taking the next step has cost him a relationship with Diana (Lizzy Caplan). Meanwhile, Isaac is about to have a child with his wife (Jillian Bell) and Chris (or C-Rob as he calls himself on social media) is now a successful football player. Isaac and Chris think it's time to move on and end the tradition with one final night on the town. Ethan has managed to snag three tickets to the elusive and secret Nutcracka Ball and, armed with a box of drugs given to Isaac by his wife as a thank you for being her rock, the trio set off on their Christmas Eve adventure.
The Night Before is a Christmas movie and so follows the general pattern of looking at the importance of family (real or surrogate) and treading the well-worn trope of A Christmas Carol references, with Michael Shannon's laid-back drug dealer Mr. Green standing in for the Ghosts of Christmas. We get a series of comedic moments but the only thing linking them all together is just how wasted on mushrooms and cocaine Rogen's character is during all of them. Isaac records a sweaty, yelling rant about his future child, he talks to the mannequins in a Nativity display and he vomits in an ill-advised stop at the midnight mass his wife attends with her straight-laced Catholic family. The mass sequence is a good illustration of some of the problems the script has. Isaac's wife has procured the cornucopia of drugs for Isaac off of Craiglist but then seems displeased and asks if he's stoned when she bumps into him during his night on the town. What was he supposed to do with the drugs? Sell them and buy a crib?
Yes, there are a few laughs of the "I can't believe how gross that is" variety, but I imagine this film is a lot funnier if you are chemically-altered and have grown tired of saying how amazing your hand looks against the light. However, if you arrive at the theatre eating popcorn instead of munchies-inspired Doritos, the sequences aren't really that hilarious, while the threads about family are right out of a Hallmark card.
Lizzy Caplan once again plays the cool girl that has to be The One, while appearances by Mindy Kaling, James Franco, Ilana Glazer and Miley Cyrus basically show that Seth Rogen's phone has a good list of contacts. The script credits four writers, including frequent Rogen collaborator Evan Goldberg and director Jonathan Levine, but it's hard to see where that much effort went into the writing.
Even sober you'll be hard-pressed to remember much about The Night Before after you leave the theatre. Like a gift you exchange after Christmas, you won't get too attached to it.
Read our profile.