The Witch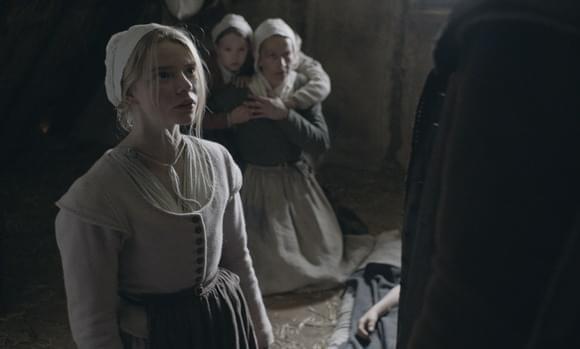 Photo: Elevation Pictures
Director(s): Robert Eggers
Writer(s): Robert Eggers
Cast: Anya Taylor-Joy, Ralph Ineson, Kate Dickie, Harvey Scrimshaw, Ellie Grainger, Lucas Dawson, Julian Richings and Bathsheba Garnett
Reviewed by: Christine Lambert on
Set in New England in 1630, The Witch focuses on a family and their newly-found home which lies on the fringe of a forest whose evil poses a constant threat to them. Family patriarch William (Ralph Ineson) has moved his family there after leaving the plantation they lived on due to religious disagreements with the community. As their oldest child, Thomasin (Anya Taylor-Joy), plays peek-a-boo near the forest with her youngest sibling, Samuel, one round of the childhood game becomes one too many as he disappears from the blanket he was lying on. Frantically, Thomasin futilely searches for him. The disappearance of Samuel will not be the last ominous thing to happen to the family, but the beginning of the torment they will face.
Writer/director Robert Eggers makes his feature film debut with the visually stunning and heart-stopping film that takes place decades before the Salem witch trials. Very cleverly, Eggers injects suspicion and paranoia into his characters. Instead of uniting as a family who are dealing with the crisis of a missing baby, each successive strange event points toward Thomasin, despite her protests otherwise.
Taylor-Joy is exquisite as the young Thomasin, who has to deal with the guilt of her missing sibling as well as the ongoing suspicion from her mother (Kate Dickie) and younger twin siblings (Ellie Grainger and Lucas Dawson). When tragedy befalls her brother Caleb (Harvey Scrimshaw), Thomasin is once again the last person to see him before he becomes a victim to the evil in the woods. Taylor-Joy plays Thomasin with the complexities needed to successfully portray a young woman under constant persecution and suspicion by her own family. Being isolated from the others in their community, it becomes evident that the only people Thomasin can rely on are the ones shunning her.
Scrimshaw plays Caleb with the adolescent confusion one would have when living in a family isolated from all others in their community. His secret glances at, and his reaction to, his sister's body show his curiosity and guilt. A melange of complex feelings that Scrimshaw executes beautifully. Another moment that highlights his talent is a pivotal scene that focuses on Caleb's return to the farm. A mesmerizing performance by the young actor is witnessed at one of the most critical parts of the film.
The Witch's strengths lie in the fact that it is far from a run-of-the-mill horror film. Though there are disturbing scenes in the film, those scenes are far from the gorefest of modern day scary films. The constant foreboding atmosphere as well as the constant underlying hint of religious persecution makes the viewer imagine the stress and strain of living in those punishing conditions. The malevolent spirit in which the film takes place leaves little for the imagination to conceive of anything but the worst outcome. It's originality and authenticity is what makes The Witch an engaging piece of cinema.
Read our profile.