There's Something About Mary
Director(s): Peter Farrelly and Bobby Farrelly
Writer(s): Peter Farrelly, Bobby Farrelly, Ed Decter and John J. Strauss
Cast: Cameron Diaz, Matt Dillon, Ben Stiller, Chris Elliott, Lee Evans, Lin Shaye, W. Earl Brown, Markie Post and Keith David
Reviewed by: Ian Evans on
Release Date(s)
Jul 15, 1998 - Wide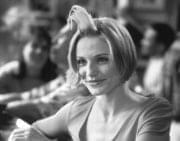 Who would believe that the Farrelly brothers – the comedic minds behind Dumb & Dumber and Kingpin – would be able to create a gentle love story? Hopefully no one because There's Something About Mary is anything but gentle. Or polite. Or subtle.
Ben Stiller plays Ted Stroehmann, who at the age of seventeen found himself being asked to the senior prom by the prettiest girl in the school, Mary Jenson (Cameron Diaz). The date never happened, however, because an unfortunate accident in the washroom left Ted with his family jewels caught in his zipper. A few days later Mary moved away to Florida…
Thirteen years go by and Ted still can't get Mary off his mind. His friend Dom (Chris Elliott) suggests that he hire private eye Pat Healy (Matt Dillon) to find her in Miami. Well, Healy the heel does find her, falls for her, lies to Ted, and by eavesdropping tries to turn himself into her perfect man. When Ted finds out, the starter pistol fires on a race to win her affection.
There's Something About Mary is terribly funny. Ridiculously funny. Funny enough that you stand a good chance of missing several lines while you recover from a joke. The sort of comedy where you start laughing describing a scene to a friend. The sort of comedy where you name scenes: "Remember the zipper scene?", "I like the second dog scene better."
Ben Stiller easily takes Ted from his mid-80's hell to his, well, late-90's hell. He's able to bring to Ted a certain amount of warmth and charm. This guy's actually good on a date until things come down to the crunch. Crunch being the operative word. Matt Dillon brought his own twist to the sleazy private eye. Though not scripted, he grew a cheesy little pencil-thin mustache that summed up his character's obliviousness to his own crassness. British actor Lee Evans has some physical bits that again walk the typical Farrelly border of laugh/cringe, and his character also has one of the more interesting twists.
Of course, we can't leave out Mary, Cameron Diaz. Mary is the perfect date. Leggy, blonde, fit, sexy, funny, caring and she ends a date with, "Do you want to come upstairs and watch SportsCenter?" Diaz does what's needed in this role but it's too bad she doesn't really have a chance to test her comic wings. Most of the humor and action takes place around her.
The supporting cast and cameos put in a good days work too. Chris Elliott slides from surburbia to insanity effortlessly and Farrelly film regular Lin Shaye, does a wonderful turn as Mary's trashy and overly-tanned neighbor.
If you're heading out to see There's Something About Mary try to keep food out of your mouth during several key scenes unless your date knows CPR.
Photo ©1998 Twentieth Century Fox