Toys of Terror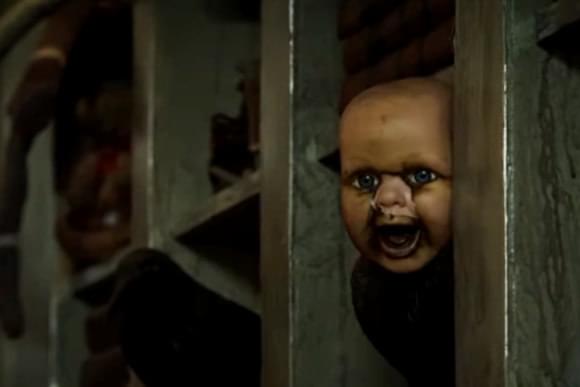 Photo: ©2020 Warner Bros Entertainment Inc.
Director(s): Nicholas Verso
Writer(s): Dana Gould
Cast: Kyana Teresa, Dayo Ade, Verity Marks, Georgia Waters, Saul Elias, Zoe Fish and Ernie Pitts
Reviewed by: Ian Evans on
Release Date(s)
Oct 27, 2020 - VOD


Toys of Terror, directed by Nicholas Verso and written by Dana Gould, is getting a VOD release on October 27th, 2020 and a Blu-ray release on January 19th, 2021. The Christmas-themed horror tells the tale of Hannah (Kyana Teresa) and David (Dayo Ade), a couple of house flippers who have convinced their children that they'll be spending the holidays at a mansion in the mountains full of Christmas fun and cheer. David's daughter Alicia (Verity Marks) is sullen teen, bummed that she's not spending the holiday with her mother on the beach. Instead, she's stuck with no cell service, her young step-siblings Franklin (Saul Elias) and Zoe (Zoe Fish), and a stepmother with whom she shares a frosty relationship. With their nanny Rose (Georgia Waters) in tow, the kids soon discover this family vacation is actually an opportunity for mom and dad to oversee their latest renovation. The mansion is actually an old children's hospital, complete with a dark past, a floor that's off-limits, and a chest full of toys that are anything but fun. Soon enough bad things begin to happen, like Franklin and Zoe acting possessed and Rose getting attacked by a flying toy.

Toys of Terror is never quite sure what it wants to be. It seems family-friendly but gruesome things happen. It's written by Dana Gould of The Simpsons, but the comic moments fall flat, except when there are unintentional laughs. The script plods along at a slow pace and many of the lines, especially those delivered by Teresa and Ade are given a very wooden presentation. I didn't find one person in the film to root for.

When the toys come to life, they do so in a sort of possessed Rankin/Bass stop motiion manner, like a demonic Rudolph special. You could argue that they were going for a retro feel not going CGI, but if you were going to do stop motion, then do it well. It just ends up looking rushed and low budget.

If there's absolutely nothing else available and you watch all things horror and/or Christmas related, then Toys of Terror may be a way to pass 89 minutes of your day. While the kids are waiting for Santa, I'll just be waiting for the end credits.