Turning Red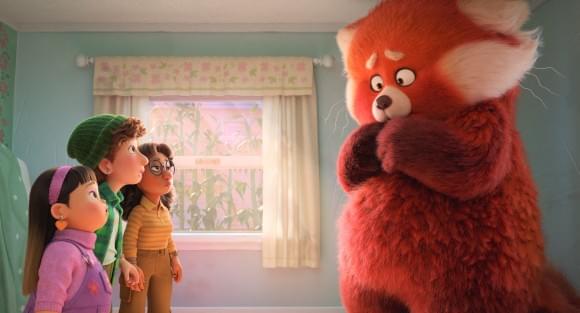 Photo: ©2022 Disney+/Pixar
Director(s): Domee Shi
Writer(s): Julia Cho
Cast: Rosalie Chiang, Sandra Oh, Ava Morse, Maitreyi Ramakrishnan, Hyein Pa, Orion Lee, Wai Ching Ho, Tristan Allerick Chen, Addison Chandler, James Hong, Lori Tan Chinn, Lillian Lim, Mia Tagano, Sherry Cola, Sasha Roiz and Lily Sanfelippo
Reviewed by: Ian Evans on
Release Date(s)
Mar 11, 2022 - Disney+


Pixar's Turning Red is a big, fuzzy, affectionate look at so many aspects of growing up. It finds laughs and a range of other feelings in, what seems at that age, the insurmountable ups and downs of puberty and all the hormonal, physical and emotional changes that a young teen goes through. It plumbs the depths of expectations and dreams in a multicultural city where old ways and long-held traditions live side-by-side with new people and new ideas. It explores the tug of war that happens when friends suddenly have more influence than parents and both sides know they need to let go but can't.

Director Domee Shi has also created a love letter to her native Toronto and as a Torontonian I'm tickled. Turning Red is unapologetically set in T.O., from the red TTC streetcars and their familiar seats, to Chinatown, Daisy Mart, the CN Tower, and even the Skydome. Most importantly, it reflects the amazing diversity of the city, where so many different cultures live, work and play together. One of the joyful aspects of Turning Red is seeing that differences are embraced and celebrated.

Meilin (Rosalie Chiang) is a hard-working Chinese-Canadian girl. She pushes herself hard, excelling at school, giving tours at the local temple, and doing her chores, all to please her mother Ming (Sandra Oh). If Ming is a helicopter parent, then she's an attack helicopter, guiding and pushing Meilin in an overly-protective manner that's strewn with the weight of so many generations before her and disapproving of her trio of close friends (voiced by Ava Morse, Maitreyi Ramakrishnan and Hyein Park). Meilin does everything she can to follow her mother's path, but she's also a young girl discovering herself, discovering boys through endless notebook sketches, and obsessing with her pals over the boy band 4*Town who (OMG!) are going to do a concert in Toronto.

Ming may be protecting Meilin and hoping she remains her little girl but she neglects to mention one thing about puberty. No, not that thing, though that leads to one particularly funny/horrifying school moment. No, instead she neglects to mention to Meilin that due to an ancient deal with the gods, girls in their family can turn into giant red pandas, a change triggered by strong emotions. Not a metaphor for periods either. An actual giant red panda. All of these changes, urges, family expectations and battles for independence lead all the way downtown to what will be a Skydome concert no one will ever forget.

I have my cup of Tim's. I have my Metropass. I'm here for the ride.