Vacation Friends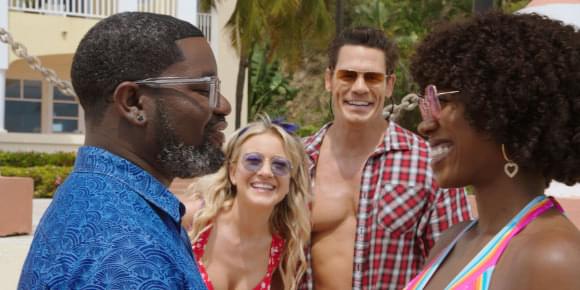 Photo: ©2021 20th Century Studios
Director(s): Clay Tarver
Writer(s): Clay Tarver, Tom Mullen, Tim Mullen, Jonathan Goldstein and John Francis Daley
Cast: Lil Rel Howery, Yvonne Orji, John Cena, Meredith Hagner, Robert Wisdom, Lynn Whitfield, Andrew "King Bach" Bachelor, Tawny Newsome, Barry Rothbart, Kamal Bolden and Denise Burse
Reviewed by: Ian Evans on
Release Date(s)
Aug 27, 2021 - Disney+ Stars


In the last couple of years, the pandemic, politics, and society's reaction to both have shown us how unpredictable everything is. How up is down, night is day, and gaslighting in broad daylight is all part of our lives. So in a weird way it's comforting that Vacation Friends – which can be found on Hulu in the U.S. and Disney+ Stars in Canada – is as paint-by-numbers predictable as can be.

Marcus (Lil Rel Howery) is a control-freak, a construction business owner from Chicago who plans everything down to the last minute. He's planning to propose to his girlfriend, Maria (Yvonne Orji), on their Mexican vacation. Everything has to go right, after all, Emily's parents don't like him and he has to prove them wrong.

Minutes after getting to the resort, the hotel room he had prepped for the proposal is ruined, flooded by an overflowing hot tub in the presidential suite. While complaining, they meet the occupants of the suite, Ron (John Cena) and Kyla (Meredith Hagner), who come up with the perfect solution: stay with them. This carefree, live-in-the-minute, stoned or drunk or both couple are the exact opposite to Marcus and Emily. They're the "yes" to their "no". Suddenly, the newly-engaged couple are partying hard, doing things and drugs and activities they'd never do with anyone but their new friends.

Did I say friends? I meant "vacation friends", the type where you say goodbye and your paths never cross again. But I did say this was a predictable movie, right? So you just know that Ron and Kyla will crash the society wedding being thrown by Emily's uptight and reluctant parents (Robert Wisdom and Lynn Whitfield). Everything from there on out – from the golf challenge with Emily's stuck-up punk of a brother (internet sensation King Bach) to the rehearsal dinner and other assorted hijinks – will have you correctly guessing each plot point of the movie right up to its resolution.

Howery can get a laugh just from his facial reactions and Cena and Hagner are a whirlwind of irresponsibility, while Whitfield and Wisdom lend an air of gravitas to their upper-class disapproval, but these are all actors in search of a better project. Vacation Friends may have a few laughs, a couple of smirks, but that's about it. It opens big, but the laughs have diminishing returns after that. Sometimes it's comforting to watch a totally predictable movie, but Vacation Friends is predictable AND ultimately forgettable. The movie has five credited writers, including director Clay Tarver. With that many scribes, you know there were a ton of rewrites, but unfortunately they whittled a big comedy idea into a cinematic toothpick.