Venus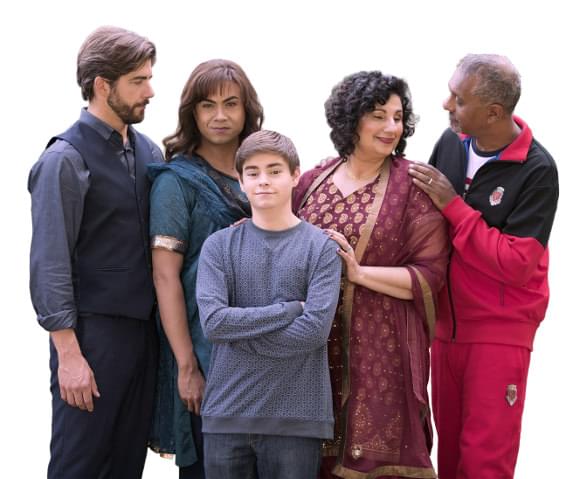 Photo: ©2018 Compass Productions
Director(s): Eisha Marjara
Writer(s): Eisha Marjara
Cast: Debargo Sanyal, Jamie Mayers, Pierre-Yves Cardinal, Zena Daruwalla and Gordon Warnecke
Reviewed by: Ian Evans on
Release Date(s)
May 18, 2018 - Wide


Heart-pounding action scenes. Car chases. Attacking aliens. Eisha Marjara's Venus has none of these. What it does have is a heart-warming, quiet, real slice of life that takes us into the life of Sid (Debargo Sanyal), a transitioning Indian woman who discovers that she now has a 14-year-old son, Ralph (Jamie Mayers).

Ralph is the result of his relationship with an old college friend, back when Sid was still trying to find out who she was. Ralph takes the transitioning in stride. He just wants to know where he came from and what his background is. He doesn't care that the father her sought out now needs to be called mom. The only thing this skateboarding, video game playing, always hungry kid needs is some orange chicken. That meal is going to come from his Indian grandparents, played wonderfully by Zena Daruwalla and Gordon Warnecke. Sid's mother barely recognized that her son was interested in men. Now that Sid is transitioning, she is faced with a whole other set of variables…but maybe a grandchild to fuss over will help. Further complicating Sid's life is the reemergence of Daniel (Pierre-Yves Cardinal), Sid's closeted ex, who has to figure out how to deal with the fact that his lover now identifies as a woman.

In the wrong hands, Venus could have been a sterile case study for a university Human Sexuality course. Writer-director Eisha Marjara avoids this by presenting the story in an honest, real way. People get hurt, they get confused, they lash out, eat good food and talk again. Guiding us through this journey is Debargo Sanyal's Sid, in a quiet but strong performance as a person who knows who she is but still needs to navigate all the other relationships and new information being thrown at her. Venus has laughs, it has drama, but most importantly it has heart. Do yourself a favour and seek it out.