Zootopia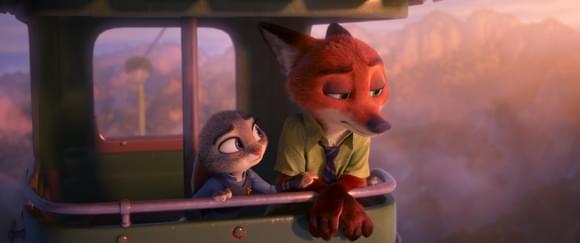 Photo: ©2016 Disney
Director(s): Byron Howard and Rich Moore
Writer(s): Jared Bush and Phil Johnston
Cast: Ginnifer Goodwin, Jason Bateman, Idris Elba, Jenny Slate, Nate Torrence, Bonnie Hunt, Don Lake, Tommy Chong, J.K. Simmons, Octavia Spencer, Alan Tudyk, Shakira, Raymond S. Persi, Della Saba and Maurice LaMarche
Reviewed by: Ian Evans on
In Zootopia, Judy Hopps (the voice of Ginnifer Goodwin), becomes the sprawling metropolis' first bunny police officer and is lauded as a symbol of diversity by Mayor Leodore Lionheart (J.K. Simmons) and Assistant Mayor Bellwether (Jenny Slate). When Chief Bogo (Idris Elba), a dismissive Cape buffalo, hands out the assignments, the star officer sees she's been assigned to parking duty while all the other officers are given the chance to break a series of missing animal cases. She uses her rabbit spped to rack up more tickets handed out in a day then other cops write in a month. When Judy makes a promise to a grieving wife, her job is on the line and the only animal that's available to help her is a cunning con artist and fox, Nick Wilde (Jason Bateman). Can Judy and Nick put their instinctive differences aside to crack the case?
Zootopia is from the gang at Disney Animation, who in recent years often get overlooked by the movies coming out of their younger sibling, Pixar. Zootopia shows they've got what it takes. Let's just start with the settings. Zootopia is a massive city that's home to a variety of species, so the city matches that with a series of climate zones. As Judy takes the train from her small-town home, she passes through polar snowstorms, blazing deserts and lush rainforests. The computer animated imagery is stunning and I could have stayed on that train for hours.
The characters are just as amazing. Besides rabbits and foxes, we get shrews, yaks, elephants, sloths and jaguars. They may be anthropomorphic animals that wear shirts and pants and walk on their hind legs, but they still manage to maintain the individual characteristics of their species. Two of the standouts are Maurice LaMarche as the powerful Mr. Big and Raymond S. Persi as a sloth who appropriately works at the DMV.
Zootopia works because it keeps you entertained on so many levels. There are sight gags and old film references. It's a film that little children will love but it's also a film noir with a case that would have been worthy of Bogart. While you're being entertained, it also touches upon bullying and racism and xenophobia. It shows characters behaving at their best while others play upon the fears of the populace over differences. It couldn't be more timely.
Despite all the messages, Zootopia isn't preachy. You'll laugh. You'll feel. You'll have fun. In other words, Zootopia is classic Disney.
Read our profile.