Oscar trio talks to the press
Mar 21, 2003 by Ian Evans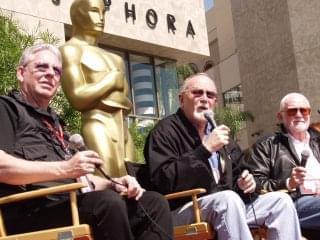 The three men behind the Oscar telecast, director Louis J. Horvitz, producer Gil Cates and Academy president Frank Pierson, held a press conference today outside the Kodak Theatre where the red carpet was to have been.
This press conference is a yearly event that usually focuses on some last minute details of the show, but on this hot, LA spring day the press conference's questions were all about the Iraqi war and its effect on the big show.
Pierson reiterated his belief that the show has gone on in past conflicts and suggested that by not proceeding with this tribute to an American art form they'd be giving in to the very values that were under attack. He also said that the red carpet was the easiest part of the show to cut. He felt that the awards ceremony honored the work over the past year, while the red carpet is a fun, frothy, but easily expendable part of the proceedings.
Show producer Gil Cates said that he frankly believes that the show will air on Sunday, but that his production team were constantly in touch with the ABC team to discuss their options should the news overseas change dramatically. All the possible options like delays and news scrolls were being considered.
It may have been the heat, but several of the reporters had a hard time getting their heads around the fact that this trio of men don't have control over the world situation and that they were at the mercy of "the winds of war."
Stick with Digital Hit for all your 2003 Oscar® coverage.