TIFF announces Canadian slate
Jul 16, 2008 by Ian Evans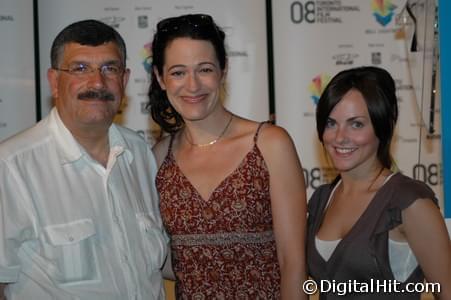 Hrant Alianak, Lisa Houle and Georgina Reilly of Bruce McDonald's Pontypool
The Toronto International Film Festival held it's annual Canadian films press conference at the Royal York Hotel yesterday. TIFF CEO Piers Handling, new Festival Co-Director Cameron Bailey, and associate director of Canadian programming Steve Gravestock all took turns at the podium.
Deepha Mehta was on hand for the announcement that her film, Heaven on Earth will be part of the fest as will Fernando Meirelles' Blindness, Bruce McDonald's Pontypool and Philippe Falardeau's Ce'st pas moi, je le jure! (It's Not Me, I Swear!).
Michael McGowan's One Week, starring Joshua Jackson, will get the gala treatment at Roy Thompson Hall, while Kari Skogland's Fifty Dead Men Walking, starring Jim Sturgess, Ben Kingsley, Rose McGowan and Kevin Zegers also gets a gala.
Edison and Leo, Canada's first stop-motion animated feature is part of the festival as is Cooper's Camera, and Control Alt Delete. The latter is about a geek who has a relationship with his computer. Gravestock quipped that, "We have one of these every year."
François Girard's 32 Short Films About Glenn Gould will be part of the Canadian Open Vault program.
Stick with DigitalHit.com for all your 2008 Toronto Film Festival coverage.