Travolta extortion case ends in mistrial
Oct 22, 2009 by Ian Evans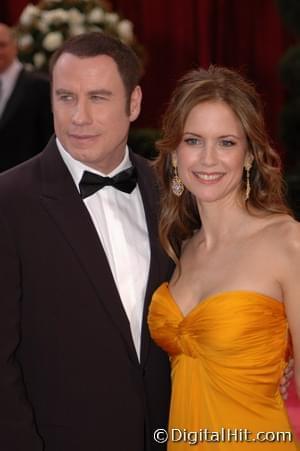 John Travolta, pictured here with wife Kelly Preston at the 80th Academy Awards®, will need to testify against his alleged extortionists again as the judge declared a mistrial.
A new trial has been ordered by a Bahamian judge in the case of two people accused of attempting extortion against John Travolta following the death of his son, Jett.
Senior Justice Anita Allen called the mistrial "in the interest of justice" after a politician made comments that one of the defendants had been acquitted by the jury, which was still deliberating.
"The dilemma that we face is great," Allen told the court. "I am erring on the side of caution. Justice must be transparent."
The case involves an ambulance driver, Tarino Lightbourne and his attorney, politician Pleasant Bridgewater, who allegedly threatened to release private information about the death of Travolta's son at their Grand Bahama's vacation home in January. They allegedly asked the actor for $25 million.
Lightbourne, who was among the medics who treated Jett, allegedly sought $25 million from the actor with the assistance of Bridgewater, who resigned her seat in the Bahamas Senate after she was charged in the case.
The mistrial was called after Picewell Forbes told the Progressive Liberal Party convention that Bridgewater, a disgraced senator, was "a free woman."