Ricky Gervais to host Golden Globes
Oct 26, 2009 by Ian Evans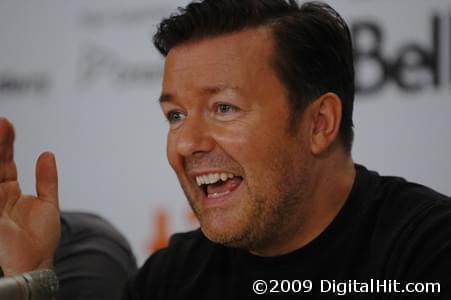 Ricky Gervais, pictured here at The Invention of Lying press conference at the 2009 Toronto International Film Festival, will host the 67th Golden Globe Awards in January. ©2009 DigitalHit.com. Photo credit: Christine Lambert
Ricky Gervais, the Golden Globe and Emmy Award winning comic genius, will host the 67th Annual Golden Globe Awards on Sunday, January 17, 2010 on NBC. Not only will the show be broadcast live coast-to-coast for the first time, but it's the first time the telecast has had a host since 1995.
"Not only is this the biggest Hollywood celebration of the industry which includes both film and TV, but also an environment where I feel I can get free reign as a host. I have resisted many other offers like this, but there are just some things you don't turn down," said Gervais.
"Ricky is certainly one of the funniest people on the planet and has provided some of the most hilarious and memorable awards show moments in recent memory," said Paul Telegdy, Executive Vice President, Alternative Programming, NBC and Universal Media Studios. "His unique comedic style will enhance the only awards show that brings together television and film stars to celebrate entertainment's biggest night of the year."
"We are delighted to have Ricky Gervais as the host on our show," said Philip Berk, President of the Hollywood Foreign Press Association. "He'll bring his unique brand of humor and charm to what will continue to be a fast paced award show."
Stick with DigitalHit.com for your 67th Golden Globe Awards coverage.