Academy celebrates at first-ever Governors Awards
Nov 15, 2009 by Ian Evans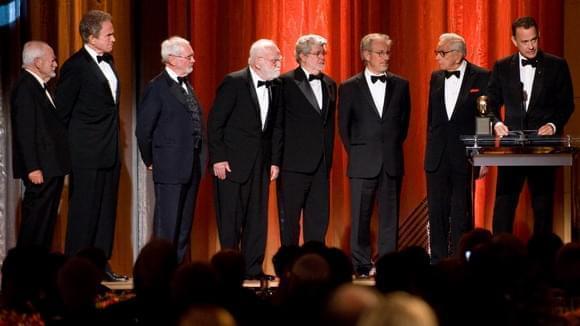 Past Irving G. Thalberg Memorial Award recipients Dino De Laurentiis, Warren Beatty, Norman Jewison, Saul Zaentz, George Lucas, Steven Spielberg and Walter Mirisch look on as two time Oscar®-winning actor Tom Hanks speaks as part of the award presentation to Irving G. Thalberg Memorial Award recipient John Calley during the 2009 Governors Awards. Photo: Todd Wawrychuk/(c)A.M.P.A.S.
It almost sounds like the start to a riddle: in which awards season were the Oscars handed out earlier and later? The answer would be this awards season as the Academy Awards telecast moves to from February to March to accommodate the Winter Olympics, yet the earliest Oscars of the season were awarded last night at the inaugural Governors Awards.
Producer-director Roger Corman, cinematographer Gordon Willis, and actress Lauren Bacall all received honorary Oscar statuettes while studio executive/producer John Calley was presented with the first Irving G. Thalberg Memorial Award since 2001.
The event all took place at a star-studded ballroom at the Hollywood & Highland complex, just steps away from the Kodak Theatre where Alec Baldwin and Steve Martin will preside over the March telecast.
The creation of separate event had two reasons behind it. 1) to try and shorten the main awards telecast and 2) to give the honorary recipients the time and respect that they deserved to celebrate long careers full of achievement.
The second aspect seemed to work as the event was a three hour celebration full of anecdotes, clips and speeches from the attendees. Reports indicate that it was a "must attend" event. Will their be pressure now to turn it into a "must see" TV event as well?