Natasha Richardson dies after ski accident
Mar 18, 2009 by Ian Evans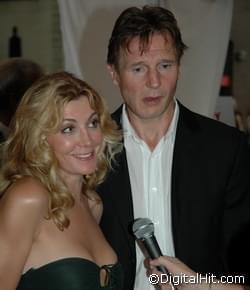 Natasha Richardson and Liam Neeson pictured at the 2004 Toronto International Film Festival
Natasha Richardson has died from head injuries she suffered from a fall at the Mont Tremblant ski resort in Quebec.
Husband Liam Neeson's publicist released the following statement: "Liam Neeson, his sons (Micheal and Daniel), and the entire family are shocked and devastated by the tragic death of their beloved Natasha. They are profoundly grateful for the support, love and prayers of everyone, and ask for privacy during this very difficult time."
Richardson had been hospitalized at the Hôpital du Sacré-Coeur de Montréal on Tuesday but was then transferred by private jet to New York's Lenox Hill Hospital.