Dennis Hopper dies of prostate cancer
May 30, 2010 by Ian Evans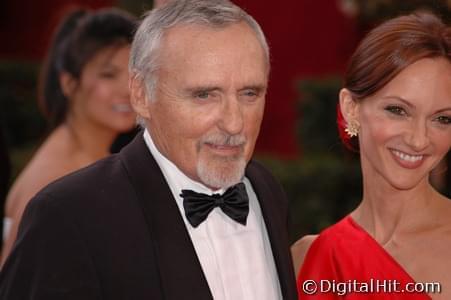 Dennis Hopper, pictured here with now estranged wife Victoria Duffy at the 80th Academy Awards, has died at the age of 74. Photo: Christine Lambert ©2008 DigitalHit.com
Dennis Hopper, a counterculture icon made famous with his role in Easy Rider, died Saturday at the age of 74. The writer, director and actor had been diagnosed with prostate cancer in 2009.
Friend and Easy Rider co-star Peter Fonda said that "We rode the highways of America and changed the way movies were made in Hollywood. I was blessed by his passion and friendship."
Hopper, a two-time Oscar-nominee, was also known for memorable roles on Rebel Without a Cause, Apocalypse Now, Blue Velvet and Hoosiers. He shared an Oscar® nomination for Easy Rider's script and earned a best supporting actor nod for Hoosiers.
Hopper was married five times. To Brooke Hayward from 1961—1969, Michelle Phillips for eight days in 1970, Daria Halprin from 1972—1976 and Katherine LaNasa from 1989—1992. He married Victoria Duffy in 1996 and filed for divorce from her in 2010. The contentious case involved Hopper getting a restraining order against her.