Hilary Swank, Jean-Claude Van Damme criticized for involvement in Chechnyan party
Oct 12, 2011 by Ian Evans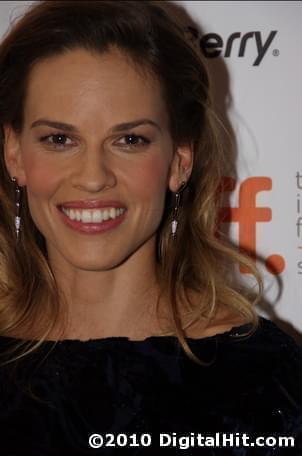 Hilary Swank, pictured here at the Conviction premiere at the 35th Toronto International Film Festival, has come under fire from human rights groups for attending the birthday party for Chechnya's president, Ramzan Kadyrov. Photo: ©2010 DigitalHit.com Photographer:Ian Evans All rights reserved.
Stars like Oscar®-winner Hilary Swank and action film icon Jean-Claude Van Damme have come under fire from the group Human Rights Watch after they attended a birthday party for Chechnyan leader Ramzan Kadyrov.
In an article called Russia: Celebrities Should Refuse Pay for Chechnya Gala the group criticizes Swank, Van Damme, and British violinist Vanessa-Mae for attending an October 5th party in the capital of Grozny that, while officially billed as a celebration of the city's restoration, was widely-believed to be a 35th birthday party for the republic's Moscow-backed leader.
According to the group, Kadyrov has been implicated in abductions, torture, and executions. He has also has been supportive of violent attacks against women who don't wear headscarves in public, and has made statements saying that he considers women inferior to men.
Stars are routinely paid honorariums or performance fees to glitz up parties. Stars like Beyonce, Usher and Mariah Carey came under fire earlier this year for performing at parties connected to former Libyan leader Muammar Qaddafi.
Human Rights Watch says they sent letters to the stars prior to the event. According to CBS News, Swank's manager has said the actress was unaware of the allegations against Kadyrov when she visited.