Wolfgang Puck to whip up Governors Ball menu
Feb 09, 2011 by Ian Evans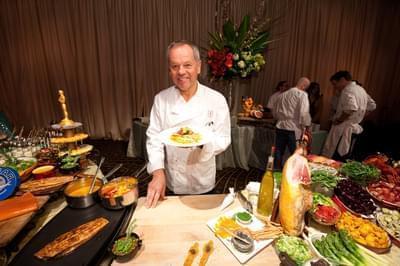 Master chef Wolfgang Puck will head into the kitchen for the Governors Ball after the 83rd Academy Awards. Photo credit: Matt Petit/(c)A.M.P.A.S
Master chef Wolfgang Puck has been selected for the 17th consecutive year by the Academy of Motion Picture Arts and Sciences to create the menu for the Governors Ball, the celebration immediately following the 83rd Academy Awards® presentation on Sunday, February 27, 2011.
"Celebrating the past, present and future of the industry and the Academy, the Governors Ball is always an unforgettable experience," said Puck. "Our goal each year is to honor Hollywood's brightest stars and most accomplished artists with a culinary masterpiece. Only the finest ingredients and flavors will do."
Your own Oscar party might be a little smaller than Puck's as he'll serve the Academy's 1,500 Ball guests, which will include Oscar® winners, nominees, presenters and telecast participants.
The menu, created by Puck and chef Matt Bencivenga, will be inspired by Latin flavors, from classic paella to coastal seafood, along with signature favorites such as smoked salmon Oscars® and pastry chef Sherry Yard's gold-dusted chocolate Oscars.
The Academy Awards for outstanding film achievements of 2010 will be presented on Sunday, February 27, 2011, at the Kodak Theatre. Stick with DigitalHit.com for your 83rd Academy Awards coverage.