TIFF announces 10 Galas and 43 Special Presentations
Jul 26, 2011 by Ian Evans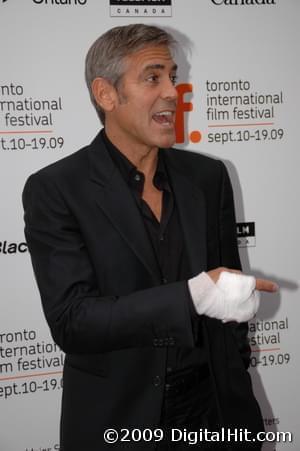 George Clooney, seen here at the The Men Who Stare at Goats premiere at the 34th Toronto International Film Festival, returns to the festival with two new films: The Ides of March and The Descendants. Photo credit: Ian Evans ©2009 DigitalHit.com. All rights reserved.
Besides the announcement of From the Sky Down as the opening night film of the 36th Toronto International Film Festival, the Festival's announcements also included news about 10 Galas and 43 Special Presentations.
Directors whose work will unspool in Toronto include Pedro Almodóvar, Bruce Beresford, Luc Besson, Rémi Bezancon, George Clooney, Francis Ford Coppola, David Cronenberg, Cameron Crowe, Terence Davies, Mathieu Demy, Jay Duplass and Mark Duplass, Roland Emmerich, Julian Farino, Ralph Fiennes, Marc Foster, William Friedkin, Rodrigo Garcia, Lasse Hallstrom, Ann Hui, Huh Jong-ho, Cédric Khan, Jonathan Levine, Jamie Linden, Madonna, Derick Martini, Steve McQueen, Fernando Meirelles, Bennett Miller, Nanni Moretti, Oren Moverman, Daniel Nettheim, Pawel Pawlikowski, Alexander Payne, Sarah Polley, Lynne Ramsay, Marjane Satrapi and Vincent Paronnaud, Jim Field Smith, Todd Solondz, Malgoska Szumowska, Jonathan Teplitzky, Morten Tyldum, Lars von Trier, Jennifer Westfeldt, Michael Winterbottom and Wang Xiaoshuai.
Here's a look at the announcements:
Galas
Albert Nobbs by Rodrigo Garcia, is a witty Irish-set period drama about the lives of staff at Dublin's most luxurious hotel: the illegitimate child of a maid, a beautiful couple's impossible love, and Albert&ldots;a woman who pretends to be a man to survive. It stars Glenn Close.
Jim Field Smith's Butter stars Jennifer Garner as the self-anointed First Lady of Butter Carving, who refuses to accept that her husband, played by Modern Family's Ty Burrell, wants to end his 15-year run as the "Iowa State Butter Carving Champion." The film also stars Olivia Wilde, Yara Shahidi, and Hugh Jackman.
A Dangerous Method, from director David Cronenberg, examines the turbulent relationship between psychiatrist Carl Jung, his mentor Sigmund Freud and Sabina Spielrein, a trouble patient who comes between them. The film stars Michael Fassbender, Viggo Mortensen and Keira Knightley.
Rémi Bezancon's A Happy Event, stars Louise Bourgoin in the tragicomic diary of a young woman who becomes a mother.
George Clooney returns to the Festival directing and starring in The Ides of March, where an up-and-coming campaign press secretary played by Ryan Gosling finds himself involved in a political scandal that threatens to upend his candidate's shot at the presidency. Philip Seymour Hoffman also stars.
Michelle Yeoh plays Aung San Suu Kyi in The Lady, Luc Besson's look at the woman at the centre of Burma's democracy movement and her husband, played by David Thewlis.
In Bennett Miller's Moneyball, Brad Pitt plays Billy Beane, the real-life general manager of the Oakland As who teams with an Ivy League grad, Jonah Hill, to turn conventional wisdom on its ear and sign baseball team based on stats. Their moves challenge some who say they're tearing out the heart and soul of the game.
Two-time Academy Award nominated director Bruce Beresford's Peace, Love, & Misunderstanding teams Academy Award-winning Jane Fonda, two-time Academy Award-nominated Catherine Keener, heartthrob Chace Crawford, and Sundance's breakout star Elizabeth Olsen in the story of an uptight New York City lawyer who takes her two spirited teenagers to her hippie mother's farmhouse in the countryside for a family vacation.
Sarah Polley's Take this Waltz looks at the question of what long-term relationships do to love, sex, and our images of ourselves. The answers are provided by Michelle Williams, Seth Rogen and Luke Kirby.
Madonna takes the director's chair for W.E. which goes across the decades as Wally (Abbie Cornish), an abused and frustrated woman in a loveless marriage, obsesses over the love between Wallis Simpson (Andrea Riseborough), the stylish American divorcee who captured the heart of Edward the VIII (James D'Arcy) who abdicated the throne as King of England.
In the Special Presentations section of the Festival we find the following films and stars:
Wang Xiaoshuai's 11 Flowers with Liu Wenqing, Wang Jinchun and Yen Ni. An 11-year-old boy in Ghizhou province is persuaded to help out a runaway murderer hiding in the woods.
Jonathan Levine's 50/50, is a story of friendship, love, and survival starring Joseph Gordon-Levitt, Seth Rogen, Anna Kendrick, Bryce Dallas Howard and Anjelica Huston.
360, by Fernando Meirelles, telss a tale of love in the 21st century and stars Jude Law, Anthony Hopkins, Rachel Weisz and Ben Foster.
Stars Malcolm McDowell, James Cromwell and John Goodman bring to life Michel Hazanavicius' The Artist, the story of the transition from silent to talking movies.
Mathieu Demy directs and stars in Americano, where a man must return to the city of his childhood to deal with the formalities surrounding his inheritance. Demy is joined by Salma Hayek and Géraldine Chaplin.
Roland Emmerich's Anonymous, takes a look at the speculation about the true author of William Shakespeare's works. Rhys Ifans is joined by David Thewlis and Vanessa Redgrave.
In Cédric Khan's A Better Life, a cook and a waitress risk everthting to purchase a restaraunt. They must face struggles, creditors and love in their hopes for a better life. The film stars Guillaume Canet, Leïla Bekhti and Slimane Ketthabi.
Jonathan Teplitzky's Burning Man, is the reckless, provocative and moving story of a father and son's journey back to happiness. It stars Matthew Goode and Rachel Griffiths.
Marjane Satrapi and Vincent Paronnaud tem up to direct Chicken with Plums, in which a celebrated violin player has his beloved instrument broken. When he can't find a replacement, life without music seems intolerable and we begin to understand his poignant secret and the profundity of his decision to give up life for music and love.
Ralph Fiennes' directs and plays the title role in Coriolanus, in which a banished Roman here teams with his sworn enemy, oplayed by Gerard Butler, to take revenge on Rome.
In Huh Jong-ho's Countdown, Jeon Do-youn plays a beautiful ex-con who tries to make some fast money by manipulating a heartless debt collector.
Todd Solondz's Dark Horse looks at the tragedy in the romance between two thirty-somethings in arrested development . It stars Justin Bartha and Selma Blair.
In Terence Davies' The Deep Blue Sea, Rachel Weisz plays the wife of a high court judge (Simon Russell Beale) who wlaks walks out on her marriage to move in with young ex-RAF pilot, played by Tom Hiddleston.
George Clooney hits the carpet a second time in Alexander Payne's The Descendants, a humourous, sometimes tragic journey of an indifferent husband and father of two girls, who is forced to re-examine his past and embrace his future when his wife suffers a boating accident off of Waikiki.
Nicolas Winding Refn's Drive stars Ryan Gosling as a stunt driver by day, getaway car driver by night who falls for a beautiful neighbour (Carey Mulligan) with an ex-con husband. When the situation spins out of control, he finds himslef chased by deadly serious criminals played by Albert Brooks and Ron Perlman.
In Elles by Malgoska Szumowska, Juliette Binoche is an investigative journalist for ELLE writing about university student prostitution. When she interviews Alicja (Joanna Kulig) and Charlotte (Anaïs Demoustier), she questions her most intimate convictions about money, family and sex.
In Fred Schepisi's The Eye of the Storm, nurses, a housekeeper and a solicitor attend to a woman as her expatriate son and daughter convene at her deathbed, but even as she's dying she remains a powerful force. The film stars Geoffrey Rush and Charlotte Rampling.
Directed by Jennifer Westfeldt, Friends With Kids is an ensemble comedy about a close-knit circle of friends and the changes that arise out of having children. The film stars Kristen Wiig, Megan Fox, Jon Hamm, Maya Rudolph and Edward Burns.
In Nanni Moretti's Habemus Papam, the newly elected Pope suffers from a panic attack and his advisers have an atheist psychoanalyst try to convince him he's the right man for the job.
Morten Tyldum 's Headhunters follows a succesful headhunter who's an art thief on the side.
Derick Martini's Hick tells the tail of 13-year-old girl who hits the road on her own in her quest to become a superstar. The cast features Blake Lively, Chloe Moretz, Alec Baldwin, Juliette Lewis, Eddie Redmayne and Rory Culkin.
Willem Dafoe stars in The Hunter Daniel Nettheim's tale of a,mercenary sent fo the Tasmanian wilderness to hunt for the last Tasmanian Tiger. Surrounded by the wilderness he faces his personal morality with dramatic consequences. Frances O?Connor and Sam Neill also star.
Jeff, Who Lives at Home from brothers Jay Duplass and Mark Duplass, stars Jason Segel, Ed Helms, Judy Greer and Susan Sarandon in the story of one man searching for the meaning of life while running to the store to buy wood glue.
Killer Joe, directed by William Friedkin, stars Emile Hirsch as a drug dealer whose mom steals his stash. Needing money fast, he realizes his mother's insurance is wrth $50,000 and hires "Killer Joe" (Matthew McConaughey) to do the deed.
Drake Doremus' Like Crazy, stars Anton Yelchin and Felicity Jones as a young couple whose long-distance relationship helps the audience explore the bittersweet beauty and impermanence of relationships.
Marc Forster's Machine Gun Preacher, stars Gerard Butler in the true-life story of Sam Childers, an ex-drug dealer who finds an unexpected calling as the savior of hundreds of kidnapped and orphaned children.
Sean Durkin's Martha Marcy May Marlene, stars Elizabeth Olsen as Martha, a young woman attempting to reclaim her life after escaping a cult and its leaderr, played by John Hawkes. As she seeks aid from her estarnged sister (Sarah Paulson) and brother-in-law (Hugh Dancy), the line between Martha's reality and delusion begins to blur.
Lars von Trier's Melancholia stars Kirsten Dunst and Alexander Skarsgård as a couple celebrating their wedding as the planet Melancholia heads towards Earth. The film also stars Charlotte Gainsbourg and Kiefer Sutherland.
In Julian Farino's The Oranges, the Ostroff and Walling families are best friends and neighbours, living across the street from each other on Orange Drive. When their daughter Nina (Leighton Meester) returns home for Thanksgiving after recently breaking up with her fiancé (Sam Rosen) she doesn't fall for the Walling's successful son (Adam Brody) but rather the Ostroff;'s best friend, David Walling, played by Hugh Laurie. The situation causes upheaval and makes everyone reassess what it means to be happy.
The man who brought us Almost Famous comes to TIFF with Pearl Jam Twenty, which chronicles bands ups and downs and is edited from over 1,200 hours of rarely seen and never-before seen footage spanning the band's career.
Rampart, by Oren Moverman, stars Woody Harrelson as an LAPD cop whose past is finally catching up with him in the wake of a department-wide corruption scandal. The cast includes Brie Larson, Sammy Boyarsky, Anne Heche, Cynthia Nixon, Sigourney Weaver, Ice Cube, Ben Foster, Ned Beatty and Robin Wright.
Lasse Hallstrom's Salmon Fishing in the Yemen, stars Ewan McGregor and Emily Blunt in the story of a government fisheries scientist asked by a fishing-obsessed Arab Sheik to introduce salmon to the wadis of the Yemen.
Shame, directed by Steve McQueen, stars Michael Fassbender, Carey Mulligan, James Badge Dale and Nicole Beharie in the story of a thirty-something man living in New York who is unable to manage his sex life.
From Hong Kong, Ann Hui brings A Simple Life. Based on real events it tells the story of Ah Tao who worked as a servant for 60 years and has been serving four generations of the Leung family. It stars Andy Lau, Deanie Ip, Wang Fuli and Qin Hailu.
Pedro Almodóvar's The Skin I Live In, tells the story of an eminent plastic surgeon who's been obsessed with creating the new skin that could have saved his badly burned wife. The cast includes Antonio Banderas, Elena Anaya, Blanca Suárez and Jan Cornet.
Michael Shannon and Jessica Chastain star in Jeff Nichols' Take Shelter. It's the story of a man, who after having dreams about an impending apocalyptic storm, channels his anxiety into building a shelter in their backyard.
Jamie Linden's Ten Year, focuses on a diverse group of friends as they return home on the night of their high school reunion. The ensemble cast includes Channing Tatum, Rosario Dawson, Justin Long, Kate Mara, Anthony Mackie and Chris Pratt.
Michael Winterbottom's Trishna, based on Thomas Hardy's novel Tess of the d'Urbervilles, stars Freida Pinto and Riz Ahmed in the tragic love story between the son of a wealthy property developer and the daughter of a rickshaw driver.
Twixt, from legendary director Francis Ford Coppola, tells the story of a writer with a declinging career who arrives in a small town as part of his book tour and gets caught up in a murder mystery involving a young girl. Stars Val Kilmer, Bruce Dern, Elle Fanning and Ben Chaplin.
Tyrannosaur from Paddy Considine, is the story of a man plagued by violence and rage that is driving him to self-destruction. A Christian charity shop worker offers him a chance at redemption but their developing relationship reveals that she's hiding a secret of her own which has devastating results on both of their lives. Tyrannosaur stars Peter Mullan and Olivia Colman.
Lynne Ramsay's We Need to Talk About Kevin, is a suspenseful and psychologically gripping exploration into a parent dealing with her child doing the unthinkable. It stars Tilda Swinton.
Where Do We Go Now? , from director Nadine Labaki, is set against the backdrop of a war-torn country and tells the heart-warming tale of a group of women's determination to protect their isolated, mine-encircled community from the pervasive and divisive outside forces that threaten to destroy it from within. The cast includes Kevin Abboud and Julian Farhat.
Woman in the Fifth, directed by Pawel Pawlikowski, is the story of American writer Tom Ricks, who comes to Paris desperate to put his life together again and win back the love of his estranged wife and daughter. A passionate and intense relationship with a beautifuk starnger triggers a string of inexplicable events. The film stars Ethan Hawke and Kristin Scott Thomas.
We'll have more titles for you as the Festival announces more films screening in the days to come. Stick with DigitalHit.com for your 2011 Toronto International Film Festival coverage and we'll have more film announcements shortly.