Larry Hagman dies at 81
Nov 23, 2012 by Ian Evans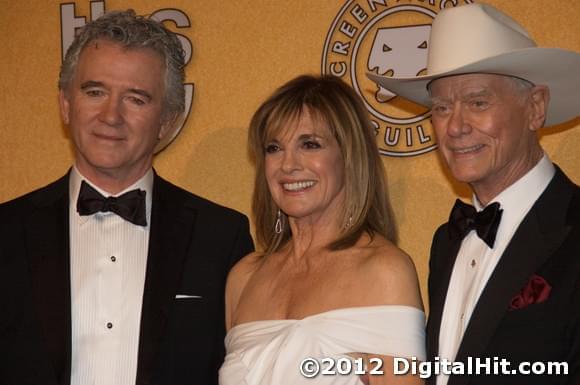 Larry Hagman (right), seen here with Dallas co-stars Patrick Duffy and Linda Gray at the 18th Annual Screen Actors Guild Awards, has died at 81.
Larry Hagman, who played the J.R. Ewing on Dallas and Major Nelson on I Dream of Jeannie, passed away Friday in Dallas. He had recently been battling throat cancer. He was 81.
In a statement, Hagman's family said that, "Larry was back in his beloved Dallas re-enacting the iconic role he loved most. Larry's family and close friends had joined him in Dallas for the Thanksgiving holiday. When he passed, he was surrounded by loved ones. It was a peaceful passing, just as he had wished for. The family requests privacy at this time."
Son of Broadway legend Mary Martin, Hagman became a TV star with his role opposite Barbara Eden on I Dream of Jeannie but became an international TV superstar when he took on the role of the conniving Texas oilman J.R. Ewing on Dallas. He played the role from 1977 to 1991 and joined the TNT reboot of the series in 2012.
Hagman may have played a scheming cheater on Dallas, but unlike a lot of Hollywood actors, Larry married just once, to Maj Axelsson in 1954. He was a heavy smoker and drinker back in the day and had a liver transplant in 1995. He became a rabid anti-smoking advocate. He was diagnosed with throat cancer in 2011.