Ernest Borgnine dies at 95
Jul 08, 2012 by Ian Evans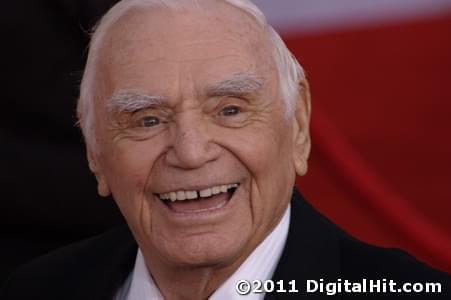 Ernest Borgnine, pictured here at the 17th Annual SAG Awards, has died at the age of 95.
Ernest Borgnine, whose career spanned from comedy to drama, film to TV, died Sunday at the age of 95. Borgine died of renal failure at Cedars-Sinai Medical Center with his family at his side.
Borgnine, who won a Best Actor Academy Award for his role in Marty, had a career that covered a wide spectrum of roles. He was the deadly Fatso Judson in From Here to Eternity. He was the commander of a group of misfit sailors in the sitcom McHale's Navy. Borgnine served in the U.S. Navy in real-life, too, enlisting in 1935 and serving on a destroyer during WWII.
His personal life included five marriages. One union, with Ethel Merman, lasted less than six weeks, but his fifth wife, Tova, was the lasting union. The pair married in 1973. He was given the life achievement award by the Screen Actors Guild in 2010.