Paul Anka visits Toronto Indigo with new book and CD
Apr 16, 2013 by Ian Evans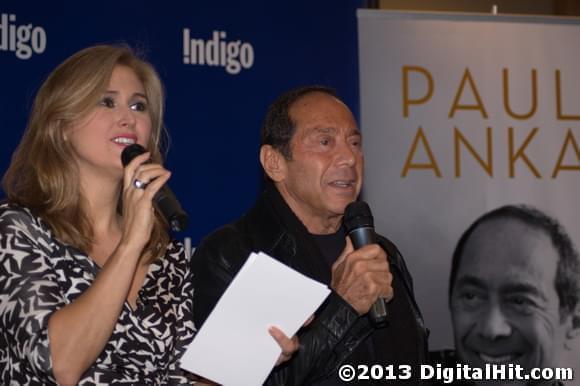 City-TV host Jennifer Valentyne and Paul Anka at the Indigo Eaton Centre location.
Legendary singer-composer Paul Anka, the Canadian-born writer of hits like "My Way", "Put Your Head on My Shoulder", and "Diana" is a powerhouse in the music world and a dynamo in person too. The 71-year-young Ottawa boy swept into Indigo's downtown Toronto Eaton Centre bookstore like a mini-tornado, almost making the job of his interviewer, City-TV's Jennifer Valentyne, redundant as he immediately took to the stage and began asking a large gathering of fans if they had any questions.
Anka regaled the crowd with stories of his early days:being told by Chuck Berry that "Diana" was an awful song, hitting the steam room with the Rat Pack, and the emotional moment when Frank Sinatra called him and played his recording of "My Way" over the phone.
Anka was at Indigo to promote his new autobiography, My Way, and his new CD, Duets. Check out our Paul Anka at Indigo photo gallery.