Zeta-Jones and Douglas take a break
Aug 28, 2013 by Ian Evans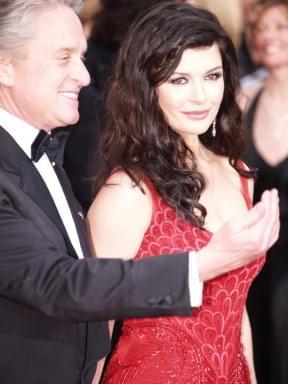 Michael Douglas and Catherine Zeta-Jones, pictured here at the 2004 Academy Awards, are taking a break in their marriage.
A rep for Catherine Zeta-Jones, 43, has confirmed that the Welsh actress and her husband, Michael Douglas, 68, have recently split.
A statement released by the couple said that, "Catherine and Michael are taking some time apart to evaluate and work on their marriage. There will be no further comment."
In the last few years the couple have had to deal with Douglas' throat cancer and Zeta-Jones' bipolar disorder. The couple married in 2000 and have two children with each other. Recently Douglas said in an interview that his cancer was caused by HPV contracted through cunnilingus. He later clarified he did not mean he contracted it from his wife.