Jan Hooks dead at 57
Oct 10, 2014 by Ian Evans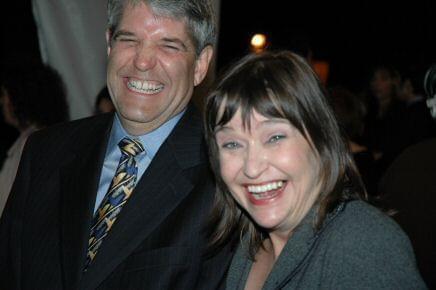 Jan Hooks, seen here with Tom Hooks at the 2004 premiere of Jiminy Glick in Lalawood, has died at 57.
Jan Hooks, best known for her great characters on SNL has died at the age of 57. Details of her death are not known, though it has been suggested she had been battling a serious illness for some time.
Hooks was on Saturday Night Live from 1986 to 1991 alongside Nora Dunn, Mike Myers, Phil Hartman, Dana Carvey and Dennis Miller. She and Dunn played the lounge-singer Sweeney Sisters and she also did impressions of Hillary Clinton and Hillary Clinton.
Hooks also joined the cast of Designing Women after the departure of Jean Smart in 1991. She played Vicki Dubcek in a recurring role on 3rd Rock from the Sun from 1996 to 2000. She most recently played Jane Krakowski's mother on 30 Rock.