Movie legend Mickey Rooney dead at 93
Apr 07, 2014 by Ian Evans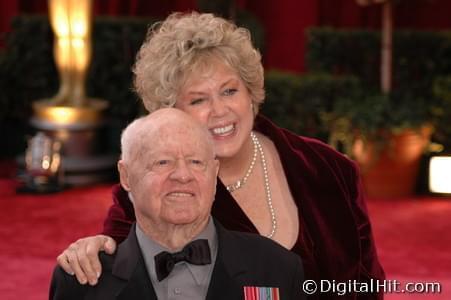 Mickey Rooney, seen here with Jan Rooney at the 80th Annual Academy Awards, has died at the age of 93.
Mickey Rooney, who was a teen box office megastar at 19, has died at age 93.
Rooney made his movie debut at age 6 in the short Not to Be Trusted. From 1937 to 1944, he made fifteen movies portraying energetic teen Andy Hardy. In 1939, the same year he was voted the number one box office star, he made Babes in Arms, the first of a series of MGM musicals with Judy Garland. Already a recipient of a special Oscar in 1939, he received an Oscar nomination for Babes in Arms and another for 1943's Human Comedy. His next two Oscar nominations were for 1956's The Bold and the Brave and 1979's The Black Stallion. He received an honorary Oscar in 1983 "in recognition of his 60 years of versatility in a variety of film performances."
Rooney made over 200 movies and was even working this year. On the small screen, he was nominated for five Emmy Awards and won for the 1981 TV movie Bill. He was a hit on Broadway in Sugar Babies, a song-and-dance show that ran for three years on Broadway. Rooney was also a hit on the road, touring with the show for four years.
His personal life had its ups and downs. He gambled and drank away the millions he earned as a child and teen. He became addicted to sleeping pills. He was married eight times. His last wife, Jan, married him in 1978 and brought stability to his life. Unfortunately, her son, Christopher Aber, was accused of elder abuse and diverting Rooney's finances. Rooney got a restraining order against his stepson in 2011 and appeared before the Senate Special Committee on Aging. In 2013, Aber and Rooney settled, with Aber and his wife agreeing they owed the legendary actor $2.8 million.