Playboy founder Hugh Hefner dead at 91
Sep 28, 2017 by Ian Evans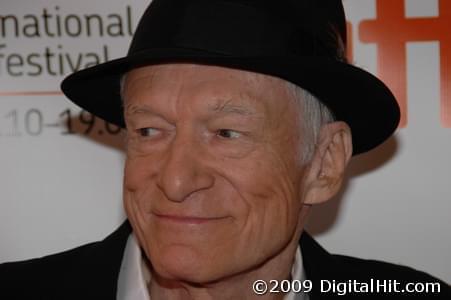 Hugh Hefner, picture here in Toronto at the Hugh Hefner: Playboy, Activist and Rebel premiere in 2009, has died at the age of 91.
Hugh Hefner, the iconic founder of Playboy, died Wednesday at the age of 91. His family confirmed his death in a tweet released by the magazine.
Hefner, or "Hef" as he was popularly known, founded Playboy in 1953. He was working at Esquire, but after being denied a $5 raise, he raised $8,000 from family and friends to launch his own magazine. He published the first issue in December of that year. It featured a nude photo of Marilyn Monroe — shot for a pin-up calendar years before she was famous — and sold out its initial run in days.
Hef saw himself as a champion of the sexual revolution, challenging America's sexual mores in the puritanical 1950s. He featured "the girl next door" in the magazine's nude photos to show, as he said, "that nice girls like sex, too." While he was viewed by some as a peddler of smut and a male chauvinist, to others he was also a supporter of 1st Amendment rights and civil rights, hiring black comedians like Dick Gregory to work in his Playboy Clubs when many nightclubs were still segregated. In between the nude photos, he published stories and articles by the likes of Kurt Vonnegut, Truman Capote and Margaret Atwood. He published iconic interviews with Miles Davis, Frank Sinatra, Malcolm X, Alex Haley and John Lennon. The writing was so good that people joked that they bought Playboy "just for the articles."
The magazine once had a circulation in the millions but that number dwindled to a few hundred thousand when faced with competition of freely available porn on the internet. He starred in the E! reality series The Girls Next Door between 2005 and 2010 with his then-girlfriends Holly Madison, Bridget Marquardt, and Kendra Wilkinson.
Hefner was married three times and at the time of his death was married to Crystal Harris, who was sixty years his junior. He also had four children: Christie and David from his first marriage to Mildred Williams, and Marston and Cooper from his marriage to Playmate of the Year Kimberly Conrad in the Nineties.