Screen Actors Guild Awards Coverage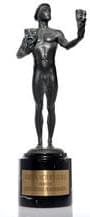 Actor Statuette
©2005
SAG
Welcome to DigitalHit.com's coverage of the annual Screen Actors Guild Awards®. This page is the nerve center of our annual coverage. From here you'll be able to read about the nominees, the winners, and the minute-by-minute events on the big night as well as go through our red carpet and backstage photo galleries.
First presented in 1995, the Screen Actors Guild Awards® exclusively honors the performers in movies and television. Besides individual performances, the SAG Awards also award the ensemble casts and film and television stunt ensembles. The nominations for the awards are chosen by two randomly selected panels of 2100 SAG members each. The nominations are then voted on by the full union membership of roughly 100,000 members.
Proceeds from The Screen Actors Guild Awards help to benefit the Screen Actors Guild Foundation, which helps with childhood literacy programs, historical preservation, scholarships, and emergency funds for members with catastrophic illnesses. Movie and TV lovers can also help the Foundation through a series of auctions held each year.
Most Recent
Historical Coverage
Life Achievement Award
A complete list of recipients of the Screen Actors Guild's Life Achievement Awards.
Other Info