23rd Toronto International Film Festival Coverage: Day Three
Day Three — Saturday Sept. 12th
Whew! Day Three was a busy one. Press conferences with Bill Paxton, Billy Bob Thornton and Meryl Streep. Photo ops with Elizabeth Hurley, Kate Hudson, Ben Stiller and Neve Campbell. At some point we ate and rested…I think.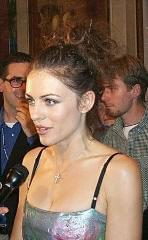 The first event of the day was the press conference for A Simple Plan. The film is directed by Sam Raimi and stars Bill Paxton and Billy Bob Thornton. They play two brothers who stumble on several million dollars of drug money with a friend. Do they turn the money in? Do they keep it? The film is a great tragedy and Paxton and Thornton's performances are very good.
Billy Bob loved working with Raimi because he loves creating characters and Raimi gave him the space to work on his role. When asked if he thought there was better acting in smaller indie films, Bill Paxton said that he felt that good acting was independent of the size of the project. Billy Bob, who was in the summer stinker Armageddon, added that there are a lot of really bad indie films too, but since they're so small they don't last and get the attention of the big flops.
The biggest laugh of the press conference came when they discussed money. The characters in the film have to face some tough ethical questions about money. One of the reporters asked the actors what they'd do for money. Billy Bob smiled and said, "Armageddon."
The next press conference of the day was for Dancing at Lughnasa, which stars Meryl Streep. Meryl seemed to be lacking energy and there was nothing truly memorable about this press outing. When asked why she did such a strong ensemble piece, Meryl said that she had wanted to do some theater work, but since the nightly theater schedule takes her away from her children, she felt that doing this movie was the next best thing.
The rest of the day was full of photo shoots. We caught Kate Hudson at the Desert Blue screening, Neve Campbell at the premiere of the pretty awful Hair Shirt, and Ben Stiller and Elizabeth Hurley at the Permanent Midnight opening.
TIFF Day Three Photo Galleries