35th Toronto International Film Festival Coverage: Day Ten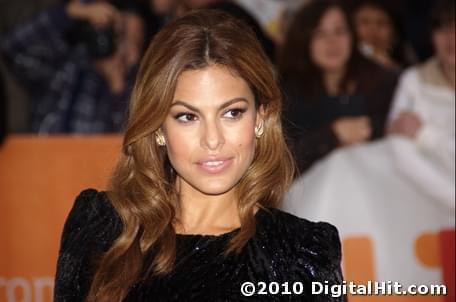 Eva Mendes at the Last Night premiere
It's over. Yes, there's eleven days of screenings for the public this year and the Festival's awards ceremony is tomorrow, but for the press, and for all intents and purposes, the 35th Toronto International Film Festival is over.
Next week, the red carpet area at Roy Thomspon Hall will once again be a green space in a public square, theatregoers will be seeing some show at the Elgin and students will be running to classes through the area at Ryerson where the red carpet used to be.
For the galas it's the last night so fitting the closing night film is called Last Night.
Directed by first-time director Massy Tadjedin, the film examines the marriage of Michael (Sam Worthington) and Joanna (Keira Knightley). On the surface it looks good, but something's been lacking. When Joanna sees her husband with his beautiful co-worker, played by Eva Mendes, she runs into a former flame (Guillaume Canet). The tale explores how the couple deals with their temptations, their choices and their future.
Though Keira Knightley did not attend the premiere, fellow stars Worthington and Mendes wowed the crowd. Gorgeous as always, Mendes signed autographs and posed for fan photos. Worthington took almost half an hour before he posed for the press, as he walked the full length of the gala's lengthy fan area.
TIFF Day Ten Photo Galleries