35th Toronto International Film Festival Coverage: Day Four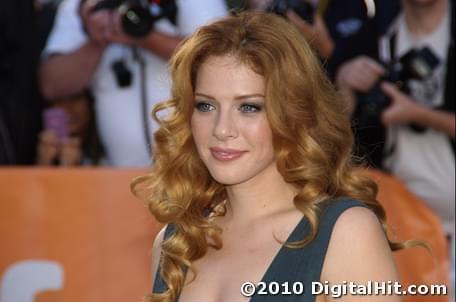 Rachelle Lefevre at the Barney's Version premiere
Day four of TIFF started off with a press conference for Guillaume Canet's Litle White Lies otherwise known by its French title Les petits mouchoirs. The film follows a group of friends who go on their annual summer holiday together despite one of them having an almost life-ending accident. The film features Oscar-winner Marion Cotillard. It had a bit of a harrowing experience (by festival standards) the day before when they discovered the projection equipment at Roy Thompson Hall couldn't handle subtitles and several hundred unilingual filmgoers had to hustle over to the nearby Scotiabank Theatre to see a hastily arranged screening there.
The afternoon's press conference schedule also included Barney's Version, the Richard J. Lewis adaptation of Mordecai Richler's work. Star Paul Giamatti said he felt a lot of pressure tackling the work of a Canadian icon. "He's a figure who's so deeply embedded in the culture and it's such a Canadian story," he said. "And I'm like, 'And you hired a guy from Connecticut to come up and blow the whole thing, potentially?'"
The afternoon also included a quick jog over to the University of Toronto's Isabel Bader Theatre for the premiere of Philip Seymour Hoffman's film directorial debut Jack Goes Boating. Based on the 2007 Robert Glaudini play, most of the original cast reprised their roles.
The First Grader's premiere brought us a story about the power of education. In the film, Oliver Litondo plays Maruge in the true story of a former Kenyan rebel in his eighties who joins a teacher, played by Naomie Harris, in a new battle to win the right to get an education, even if it means sitting in a classroom of six-year olds. An inspiring story.
The Elgin's red carpet was also visited by film icon Woody Allen who was there to promote You Will Meet a Tall Dark Stranger. The film's premiere also included an appearance by star Freida Pinto and boyfriend Dev Patel, who became a couple after working on the Oscar®-winning Slumdog Millionaire.
Father-and-son producing duo Robert and Ari Lantos, TIFF regulars, attended the premiere of Barney's Version alongside the film's cast including Paul Giamatti and Minnie Driver.
Ben Stiller was playing the role of executive producer as Richard Ayoade's Submarine sailed down the red carpet for the premiere of the film whose cast features Sally Hawkins, Craig Roberts and Yasmin Paige. Stiller was very proud of the film but told the audience, "I don't want to be one of those people who tells you how great the movie is before it's out. I had that happen to me recently with Piranha 3D, which was a letdown."
There was also anticipation in the air for the premiere of Clint Eastwood's Hereafter, which stars Matt Damon. The grizzled Hollywood veteran had not been at TIFF in about two decades, making his premiere one of the hottest tickets in town.
Film festivals are often filled with moments of chance. We'd been told by a TIFF publicist that there was no red carpet to cover for Stephen Frear's Tamara Drewe, which stars Gemma Arterton and Dominic Cooper in the story based on a British comic strip about an attractive journalist.
Frears, Arterton and Cooper were all in town so why wouldn't there be a carpet? Heading off to Ryerson to double check, we bumped into one photographer who had been told there'd only be a carpet at a club for the post-screening party. Turning to head elsewhere, we bumped into a Big Apple-based shooter whose iPad displayed an email from a publicist in NYC announcing a red carpet before the film. Hightailing it back down the street, we were one of only five outlets to cover the event.
Films may be scripted, but film festivals are improvised!
TIFF Day Four Photo Galleries