35th Toronto International Film Festival Coverage: Day Five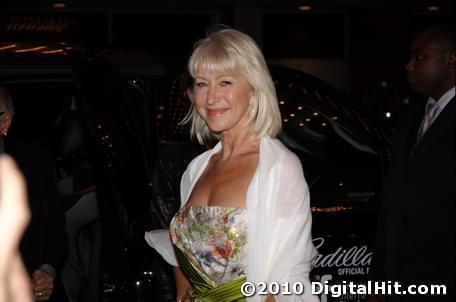 Helen Mirren at the Brighton Rock premiere
It's day five of TIFF and we started off at the press conference for Buried, which stars Ryan Reynolds.
Writer Chris Sparling wanted to write a film that could be shot for as little as $5,000 and he realized a ninety-minute story about a man in a box would fit the bill with no need for costumes, fancy locations or other actors. That was his sole inspiration. "I wish I had a cool answer," he told the press conference. "I thought of a small movie about a guy in a box."
The film did get read though and after director Roderigo Cortes and actor Ryan Reynolds became interested it ended up getting shot in 17 days in Barcelona for a budget of $2 million. Reynolds liked the obstacles involved in telling a story about a kidnap victim in a box. "It posed a narrative and technical challenge," said the Canadian actor.
We then headed to the Elgin to cover the premiere of Larysa Kondracki's The Whistleblower. Starring Rachel Weisz, the film is the based on the true story of Kathryn Bolkovac. Bolkovac was a policewoman on peacekeeping duty in Bosnia who blew the lid off a scandal involving American contractors and the United Nations. The film, which marks Kondracki's directorial debut, also stars Vanessa Redgrave.
Mike Leigh came to TIFF with Another Year, which stars Jim Broadbent, Lesley Manville and Ruth Sheen. The film, which has been getting great reviews since premiering at the Cannes Film Festival, follows Sheen and Broadbent as a happy couple who have to spend their time dealing with miserable friends and worrying about the future of their son.
Legendary French actress Catherine Deneuve arrived at Roy Thompson Hall with director François Ozon for Potiche. The comedy has Deneuve as the wife of an umbrella factory owner who must call upon the town's communist mayor (played by Gerard Dépardieu) to help her deal with the factory's labour strife.
Director Rowan Joffe joined Helen Mirren for the premiere of Brighton Rock, based on the 1938 Graham Greene novel. The film, which follows a 1947 version, moves the murder thriller up from 1930's Brighton to the 1960's turf wars between the mods and the rockers.
John Cameron Mitchell's Rabbit Hole, based on the play by David Lindsay-Abaire, follows a couple whose life is turned upside-down by the accidental death of their son. The couple is played by Aaron Eckhart and Nicole Kidman. Kidman, who's also a producer on the project, attended the Elgin screening with her husband, country music star Keith Urban.
Darren Aronofsky's psychological thriller Black Swan, unspooled at Roy Thompson Hall. The film, which stars Natalie Portman, Vincent Cassel and Mila Kunis, tells the story of a New York Ballet company's production of Swan Lake. Portman plays the lead dancer who feels that her understudy is do anything she can to take the role away from her. What's real and what's imagined mirrors the tale of the White and Black Swans. Aronofsky paired his experience seeing Swan Lake with an idea he had about understudies and doppelgängers. Though it may seem hard to see at first, the director sees this project as a companion piece to his critically-acclaimed 2008 film The Wrestler, as both films deal with "performances" albeit in different art forms.
TIFF Day Five Photo Galleries