35th Toronto International Film Festival Coverage: Day Six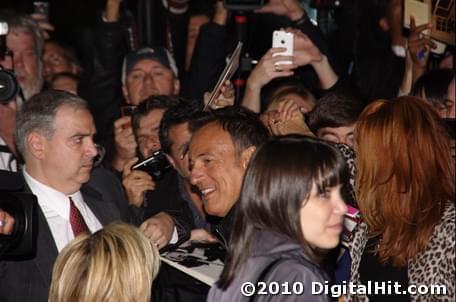 Bruce Springsteen at the The Promise: The Making of Darkness on the Edge of Town premiere
A slightly quieter day for us as we recovered from the first five frantic days of the Festival.
We've already seen Helen Mirren in town for Brighton Rock and now she's gracing the carpet for The Debt, which co-stars Avatar's Sam Worthington. Directed by Shakespeare in Love's John Madden, the film also stars Ciarán Hinds and Tom Wilkinson.
A remake of a 2007 Israeli film by Assaf Bernstein, The Debt takes place in 1997 and flashes back to 1965 where a trio of Mossad agents are on a mission to kill a notorious Nazi war criminal. The mission was deemed a success and the trio hailed as heroes but events thirty years later threaten to unravel the tale that their history has woven. Some reaction to the film suggests there may be problems with the ending but nothing that a little pre-release editing won't fix.
Chronicling the epic recording sessions that led to his legendary Darkness on the Edge of Town album, the premiere of the documentary The Promise: The Making of Darkness on the Edge of Town brought Bruce Springsteen into town.
The Boss had been interviewed by actor Edward Norton earlier in the day at the Bell Lightbox, TIFF's shiny new headquarters. Now he was arriving to confront screaming fans. He paused for photos, but only stopped for one interview on the red carpet.
Directed by Thom Zimny, the documentary combines interviews and archival footage of the marathon recording sessions that followed a three-year hiatus from recording brought on by legal battles with his ex-manager. When Springsteen was finally free, he and the E Street Band hit the studio like men on a mission. They discarded more songs than they recorded, but those toss offs went on to become hits for other acts or to be reworked for his next album The River.
The film offers a rare glimpse into the mind of a musical genius and the red carpet offered a fleeting glimpse of a semi-reclusive artist.
TIFF Day Six Photo Galleries