35th Toronto International Film Festival Coverage: Day Seven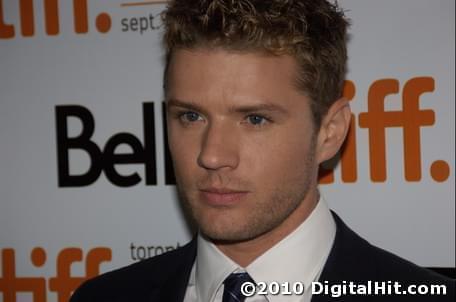 Ryan Phillippe at the The Bang Bang Club premiere
After screenings at both Sundance and Cannes, director Derek Cianfrance brings his Blue Valentine to TIFF. Written by Joey Curtis and Cami Delavigne and starring Michelle Williams and Ryan Gosling, the film follows the ups and downs in the relationship of a married couple. As they struggle through the hard times in the present, the story juxtaposes these moments with their sweet and loving courtship six years earlier.
From a dysfunctional relationship drama we move on to a dysfunctional family comedy with Peep Show, which stars Michael C. Hall, Sarah Silverman, Rainn Wilson, Ben Schwartz and Judy Greer.
A group of siblings gather to celebrate their father's seventieth. The oldest siblings are angry at their youngest brother who has turned their failings and foibles into a popular book that's now being turned into a movie. Director Barry W. Blaustein has said that he did not have final cut on this film, so if nothing else the film should be an experience in see what happens when a studio takes over the creative process.
Our final film of the night, Steven Silver's The Bang-Bang Club, is based on the true-life tale of four photographers who covered the dying days of apartheid in South Africa. The photojournalists, Kevin Carter, Greg Marinovich, Ken Oosterbroek, and João Silva, covered the tumultuous period after the release of Nelson Mandela. During a gun battle between the National Peacekeeping Force and African National Congress supporters, Ken Oosterbroek was killed and Greg Marinovich was seriously injured. The film stars Ryan Phillippe, Taylor Kitsch, Patrick Lyster, Frank Rautenbach, Russel Savadier, Neels Van Jaarsveld and former Toronto resident Malin Akerman. One of the film's producers, Kweku Mandela, is the grandson of anti-apartheid activist and former South African president Nelson Mandela.
TIFF Day Seven Photo Galleries