35th Toronto International Film Festival Coverage: Day Nine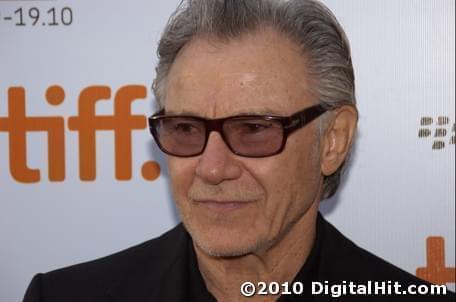 Harvey Keitel at the A Beginner's Guide to Endings premiere
Writer-director Jonathan Sobol (Citizen Duane) brings his latest, A Beginner's Guide to Endings, to the Festival on day nine.
The story follows three brothers (Scott Caan, Jason Lewis and Paolo Costanzo) as they return home to Niagara Falls to mourn the passing of their father. It turns out their dad, played by Harvey Keitel,signed the brothers up for drug tests and now they discover that their own days are numbered. How they cope with the news and the choices they make drive the comedy in this Canadian production. The cast also features the always wonderful J.K. Simmons as well as Wendy Crewson and Tricia Helfer.
David M. Rosenthal walked the carpet with members of the cast of his new film, Janie Jones. Elisabeth Shue plays a former groupie who informs a fading rock star (Alessandro Nivola) that he's the father of her 13-year-old daughter, Janie Jones played by Abigail Breslin. Though he complains about the situation endlessly, he soon discovers he has a kindred spirit in his daughter. The film draws upon Rosenthal's own life experience, as he only met his own daughter a decade after her birth.
The cast of Janie Jones also includes Peter Stormare, Frank Whaley and Joel Moore and features original music by Eef Barzelay and Gemma Hayes.
TIFF Day Nine Photo Galleries