36th Toronto International Film Festival Coverage: Day One
September 8th, 2011 – by Ian Evans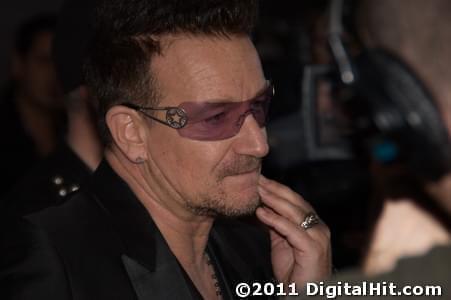 Bono walks the carpet at the From the Sky Down premiere. ©2011 DigitalHit.com. All rights reserved. Photographer:Ian Evans
The 36th edition of the Toronto International Film Festival opened with a documentary looking at U2. Director Davis Guggenheim walked the red carpet with Bono and The Edge as did Guggenheim's wife, actress Elisabeth Shue.
It was the first time that a documentary opened the Festival. From the Sky Down chronicles Irish rockers U2 as they hit the recording studio to make the 1991 album Achtung Baby. Combining archival footage, photos and recent rehearsals for the Glastonbury Festival 2011, the film follows the band's struggle to reinvent itself after Rattle and Hum, a moment in time that had drummer Larry Mullen, Jr. commenting, "We were the biggest, but we weren't the best".
Guggenheim's film takes us inside the recording sessions at Berlin's Hansa Studios, where producers Daniel Lanois and Brian Eno oversaw a band in conflict. Arguing over their artistic direction and on the verge of breaking up, the band finally had a breakthrough as they worked together to write the song "One".
Piers Handling, CEO and Director of TIFF, had previously said that, "Davis Guggenheim's fascinating account of this world-renowned band is the perfect film to kick off our 11-day celebration of artists, stories and voices from around the world."
TIFF Day One Photo Galleries