36th Toronto International Film Festival Coverage: Day Ten
September 17th, 2011 – by Ian Evans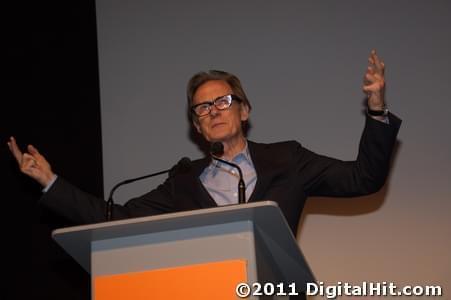 Bill Nighy address the audience before the clsoing night premiere of Page Eight. ©2011 DigitalHit.com. All rights reserved. Photographer: Ian Evans
Day Ten. It's sort of the last day for the 36th Toronto International Film Festival. Yes, there is an awards ceremony and some public screenings but for the press and the red carpets and a lot of the hoopla this is it. It'll all be taken down and put away and film festival lovers will begin longing for TIFF 2012.
Page Eight from writer-director David Hare is the closing night film. Some may think it odd that a TV movie — it has aired on the BBC and soon on PBS — is closing a film festival but really, it's all a question of semantics. Perhaps we should call it a storytellers festival. After all, how many "films" are even shot on film these days?
All that's important is that Hare, whose previous scripts include The Hours and The Reader, has assembled a fine cast that features Bill Nighy, Rachel Weisz, Michael Gambon, Tom Hughes, Ralph Fiennes and Judy Davis. Nighy plays an MI-5 agent who comes across information that indicates that the British PM has more knowledge and acceptance of possible U.S. Torture and secret prisons than he has shared with his own security services. As events unfold around him, can a man used to working in the shadows become a whistleblower?
Nighy, who has delighted audiences with roles in Underworld, Shaun of the Dead and the Pirates of the Caribbean movies was delighted to be tackling a meaty role that required wearing a tailored suit. It also reteamed him with David Hare, a collaboration that has been going — on stage and on screen — for about three decades. Before the screening, Nighy kept the audience in stitches with his wicked humour and tales of a lost Canadian love.
TIFF Day Ten Photo Galleries