36th Toronto International Film Festival Coverage: Day Four
September 11th, 2011 – by Ian Evans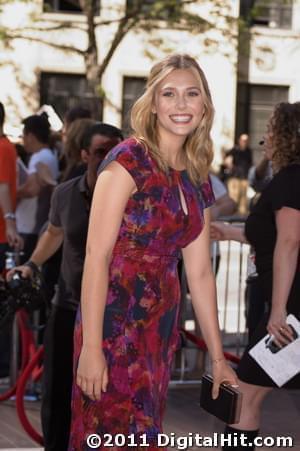 A radiant Elizabeth Olsen arrives at the Ryerson Theatre for the premiere of Martha Marcy May Marlene. ©2011 DigitalHit.com. All rights reserved. Photographer:Christine Lambert
The Rampart press conference took place at the Bell Lightbox. Woody Harrelson plays a dirty cop caught up in the Rampart corruption scandal that hit the LAPD in the 1990s. The corruption is set against the cop's home life where he shares two sisters (Anne Heche and Cynthia Nixon) and the children he fathered with them. Director Oren Moverman, who previously worked with Harrelson on The Messenger, was first brought in to work as a writer on crime novelist James Elroy's sweeping story, before settling into the director's chair. "It all comes from the mind of James Elroy. I was going to out-Elroy Elroy, and have as much fun with it as he usually does."
Over at the Ryerson Theatre, we covered the premiere of Martha Marcy May Marlene, the story of a young woman who must deal with the paranoia she experiences as she flees from an abusive cult and returns to her family. Featuring a mesmerizing Elizabeth Olsen in her feature debut, the film has already been well received at both Sundance and Cannes. Many are already putting Olsen on their "one to watch" lists.
Adapted from Sam Childers' memoir Another Man's War, Machine Gun Preacher took its turn on the gala red carpet at Roy Thomson Hall. Childers was a drug-using alcoholic gang biker who found religion and then headed off to the Sudan where he took part in armed raids to free orphans from the Lord's Resistance Army. Gerard Butler plays Childers in the movie. It remains to be seen what the spotlight of the movie will do to shine a light on Childers' story. The extra attention has already given some groups a chance to challenge some of the aspects of the story and some groups have even made complaints about the conditions in Childers' African orphanages.
From Humpday director Lynn Shelton, we get Your Sister's Sister, with Emily Blunt, Rosemarie Dewitt and Mark Duplass. Iris (Blunt) sends Jack (Duplass) to her family retreat to help deal with the loss of his brother. He comes across Iris' sister, Hannah, who's reeling from a failed seven year relationship with her girlfriends. An alcohol-fueled night of talk leads to the pair taking a tumble in the sack and Jack must then deal with whether to tell Iris, as there's an uncertainty if that relationship is more than platonic. Shelton managed to shoot the whole thing in 12 days and this is the sort of film that festivals are born to foster: quiet character-driven pieces that rely on emotions and ideas rather than exploding buildings and superheroes.
Written by Pulitzer Prize-winning playwright Tracy Letts and directed by The Exorcist's William Friedkin, Killer Joe stars Emile Hirsch as a young man too far in debt. He plots with his father (Thomas Haden Church) to kill his mother (Gina Gershon) for the insurance money. Not having enough cash to secure the work of their hitman (Matthew McConaughey), he request the family's teenage daughter (Juno Temple) as a retainer. This is the second time that Friedkin, who won a Best Director Oscar for The French Connection, has adapted one of Letts' stage plays, the first time being the film Bug in 2006.
The Woman in the Fifth, directed by Pawel Pawlikowski, stars Ethan Hawke as a lecturer who heads to Paris after a scandal costs him his job. There he meets a widower, played by Kristin Scott Thomas, who may be involved in a series of murders. I don' t think I'll get a chance to see this during the festival, but from what I've heard I think I'd like to experience Pawlikowski's work.
There have always been disputes about who actually wrote Shakespeare's plays and Anonymous falls into the camp that sees the collected works having been written by Edward de Vere, 17th Earl of Oxford. Now, whereas the Oxfordian theory of authorship is routinely dismissed by most Shakespearean scholars, one undisputed fact is that a lot of screaming girls were at the Elgin to see Jamie Campbell Bower, who plays the young Oxford, a character played by Rhys Ifans in his later years. Bower, who has been in The Twilight Saga and Starz' Camelot, will soon be playing Jace Wayland in the upcoming film adaptation of The Mortal Instruments. So while you may dispute the various Shakespearean theories and discussions about Elizabethan succession, you can't dispute it's probably a good idea to get Bower in our photo archives.
TIFF Day Four Photo Galleries