36th Toronto International Film Festival Coverage: Day Five
September 12th, 2011 – by Ian Evans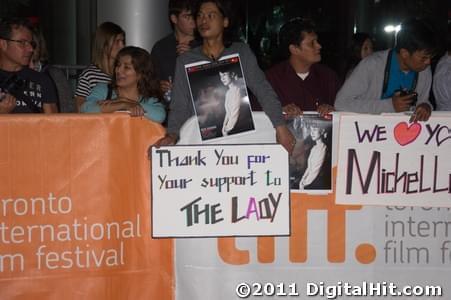 Aung San Suu Kyi supporters at the The Lady premiere outside Roy Thomson Hall. ©2011 DigitalHit.com. All rights reserved. Photographer:Ian Evans
50/50 is a cancer comedy. You read that right, a comedy. Producer-writer Will Reiser has created a fictionalized version of himself and real-life pal Seth Rogen as he learned of his diagnosis with cancer. Rogen, who worked with Will on Da Ali G Show says that he and his friend were ill-equipped to deal with the news and used jokes to try and defuse the situation. As Reiser got better, the pals thought the writer should make something good come out of his experiences and 50/50 was born. The film, which stars Joseph Gordon-Levitt, Seth Rogen and Anna Kendrick, had it's premiere at the Ryerson Theatre.
Over at Roy Thomson Hall, Madonna accompanied stars Andrea Riseborough and Abbie Cornish to the gala premiere of W.E. The film tells the story of Wally Winthrop (Cornish) a 1998 New Yorker obsessed with what she views as the ultimate love story: the romance between Wallis Simpson (Riseborough) and King Edward VIII, who would give up the British throne to be with her. As Wally learns more about her obsession, the film jumps back in forth in time to show the intertwining stories. Though several hundred Madonna fans, including a drag version of the music icon, greeted her with screams, it remains to be seen how the critics at TIFF will view W.E. as it already had mixed views when it bowed at Venice.
Back at Ryerson, Jamie Linden's Ten Year is a large ensemble piece telling the tale of a ten year high school reunion. In Ten Year, Linden, whose previous writing credits include We Are Marshall and Dear John, weaves a story that takes place over the reunion's one night as old friends and enemies deal with the people they were and the people they have become. Many of the films stars were in attendance, including Lynn Collins, Scott Porter, Aaron Yoo, Oscar Isaac, Ari Graynor, Channing and Jenna Dewan-Tatum. Max Minghella, Kate Mara, Brian Geraghty and Justin Long. Wow, after that list it's hard to believe there were actually people missing.
Rounding out the night back at Roy Thomson Hall was the gala premiere of The Lady. Directed by Luc Besson and starring Michelle Yeoh and David Thewlis, the film tells the true life story of Burmese opposition leader and Nobel Peace Prize winner Aung San Suu Kyi and the long distance bond she maintained with her husband, Michael Aris, as she spent more than a decade under house arrest. In contrast to the screaming fans at other premieres, it was really quite touching to see Suu Kyi's supporters holding signs thanking the festival and filmmakers for keeping her story in the light.
TIFF Day Five Photo Galleries