36th Toronto International Film Festival Coverage: Day Six
September 13th, 2011 – by Ian Evans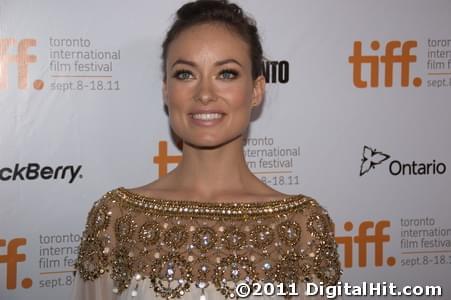 Olivia Wilde poses for the press at the Butter premiere. ©2011 DigitalHit.com. All rights reserved. Photographer:Ian Evans
The celebrated Belgian filmmakers Jean- Pierre and Luc Dardenne tackle the subject of child abuse and abandonment in The Kid with a Bike a.k.a. Le Gamin au Velo. The film, which stars Cecile de France, Thomas Doret, and Jeremie Renier, won the Cannes Grand Jury Prize earlier this year. Again, this is the sort of film that festivals were made for. All I can do is implore you to head to an art house or look deeper into the Netflix catalogue for gems like this.
The director of Metropolitan, Barcelona and The Last Days of Disco, Whit Stillman, returns to the screen after a thirteen year absence with Damsels in Distress. Set in a fictional New England university, Violet Wister (Greta Gerwig) and her socially-active clique who take a new transfer student (Analeigh Tipton) under their wing, and soon find themselves dealing with boys, betrayal, teen suicide and tap-dancing.
Peace, Love, & Misunderstanding had its gala premiere at Roy Thomson Hall, but sadly, Hollywood legend Jane Fonda was not in attendance. Directed by Bruce Beresford, the film follows a conservative lawyer (Catherine Keener) who takes her two teenage children (Nat Wolff and Elizabeth Olsen) to meet their estranged, hippie grandmother (Fonda) in Woodstock after her husband asks for a divorce. Gossip Girl's Chace Crawford also stars in the flick and that presented us with one of the most memorable events of the fest. As Chace signed autographs for fans, one adoring female kept yelling that she loved him and asking him to come down to her area and sign. When Chace ended up going to another area to sign, her love turned to hate and she began yelling "I hate you, Chace Crawford! I hope your show gets cancelled and you lose your job." Ah, the fickle finger of teenage obsession…
You learn something every day. For example, I didn't know there was a world of competitive butter carving, but then I went and covered the gala premiere of Jim Field Smith's aptly named Butter. Ty Burrell plays Bob Pickler the "the Elvis of butter." When the maestro resigns, his wife (Jennifer Garner) steps up to the plate despite her lack of experience. She soon finds herself in direct competition with a young orphan named Destiny, played by Yara Shahidi. Toss in Hugh Jackman, Ashley Greene and Olivia Wilde and you've got yourself one high cholesterol comedy. Jennifer Garner definitely scored some points with the locals when she told an interviewer for the Canadian Press agency that Toronto was her "lucky spot" due to the positive receptions she received for Juno and The Invention of Lying and that hubby Ben Affleck received for The Town. Remember, when in doubt, suck up to the locals.
TIFF Day Six Photo Galleries