36th Toronto International Film Festival Coverage: Day Eight
September 15th, 2011 – by Ian Evans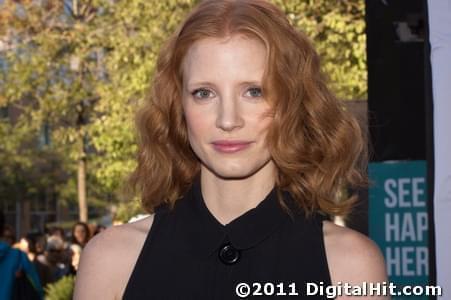 Jessica Chastain, who has generated a lot of buzz at TIFF 2011, poses for the press at the Take Shelter premiere. ©2011 DigitalHit.com. All rights reserved. Photographer: Christine Lambert
Day eight of TIFF…we're in the home stretch. I always feel like a want to rewind and experience some of the days over again at this point.
Take Shelter, from writer-director Jeff Nichols, stars Michael Shannon and Jessica Chastain in the story of a husband and father who begins having apocalyptic visions. He begins building a storm shelter but begins to question whether the shelter is to protect his family from a coming storm or himself. Jessica Chastain walked the carpet at the Ryerson Theatre and she's been quite the "It" girl in the press here. At TIFF she's also promoting Coriolanus. Her face has been all over the screens this year, with roles in The Tree of Life, The Help and The Debt. Hmm, it seems like her TIFF films are breaking the rule of starting with "The".
Violet & Daisy is the directorial debut of Geoffrey S. Fletcher, the Oscar-winning screenwriter who adapted of Precious: Based on the Novel "Push" by Sapphire. His film stars Saoirse Ronan and Alexis Bledel as two young assassins who think they have an easy job ahead of them until they come across a mysterious man played by James Gandolfini. Gandolfini is usually a bit, um, press shy on the carpet, but when he recognized one photographer from what I can only assume was a good night in a British pub, he was far more obliging to the assembled photographers than I've seen him in years.
TIFF Day Eight Photo Galleries