37th Toronto International Film Festival Coverage: Day Ten
September 15th, 2012 – by Ian Evans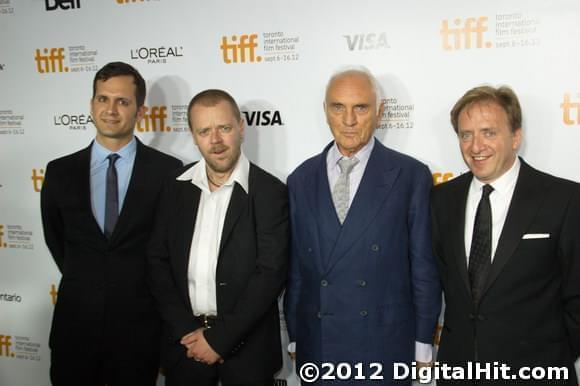 Ken Marshall, Paul Andrew Williams, Terence Stamp and Philip Moross at the Song for Marion premiere. ©2012 DigitalHit.com. All rights reserved. Photographer: Ian Evans
Day ten. The last full day of press events. We only covered one carpet today, the Festival's Closing Night gala, Song for Marion. Written and directed by Paul Andrew Williams, the film tells the story of a curmudgeonly retiree (Terence Stamp) whose wife (Vanessa Redgrave) falls ill, leaving him to take her place in the local seniors choir.
Terence Stamp said he enjoyed himself singing in the film and Paul Andrew Williams joked that Stamp could have a career singing at karaoke nights if he ever gave up acting.
Join us on day eleven as we give you the results of the awards and accolades handed out at the end of the Toronto International Film Festival.
TIFF Day Ten Photo Galleries