37th Toronto International Film Festival Coverage: Day Two
September 7th, 2012 – by Ian Evans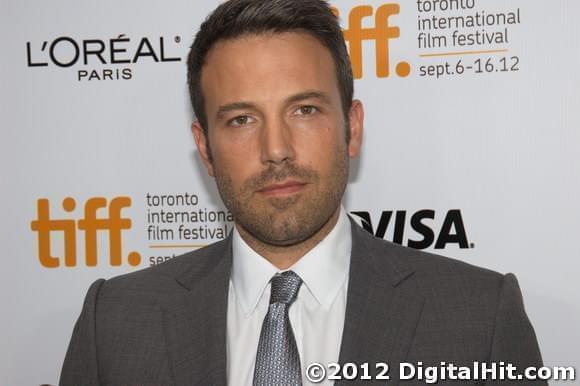 Ben Affleck, who stars in and directs Argo poses at the gala premiere of the movie. ©2012 DigitalHit.com. All rights reserved. Photographer:Ian Evans
With one day down, day two of TIFF 2012 began at Ryerson University, where Kristen Wiig was in town to promote husband-and-wife directing duo Shari Springer Berman and Robert Pulcini's Imogene, the story of a playwright who stages a suicide to try and win back her ex only to end up in the custody of her gambling-addicted mother.
Wiig walked the red carpet with co-stars Darren Criss (Glee), Christopher Fitzgerald, June Diane Raphael and Mickey Sumner, who just so happens to be the daughter of Sting and Imogene producer Trudie Styler.
After the screening, the audience had a chance to have a Q&A session with the cast. Wiig gave a lot of credit to writer Michelle Morgan, saying that when she read the screenplay she found it very special and called Morgan an incredible talent.
Before the Spring Breakers premiere, also at Ryerson, the cast held their press conference for the film, which tracks a group of co-eds who come under the control of a local gangster during a chaotic spring break vacation. Written and directed by Harmony Korine, the film's subject matter is a departure for one of its stars, Selena Gomez. Best known as a Disney actress (Wizards of Waverly Place), Gomez sees tackling the gritty material as part of her maturing process in the industry. "It's not necessarily about breaking out of anything, it's just something I wanted to do."
Vanessa Hudgens, also known for her teen-friendly work in High School Musical, said she wanted young women to feel empowered in their work, "whether it's robbing someone or starting their own business." I find the word "empowered" is tossed around a lot by actresses when they're asked to play roles in movies that have them in bikinis most of the time.
By the time we got to the Spring Breakers premiere, the talk was less about who was there, than who might be there, as Gomez is the girlfriend of a little-known Canadian singer named Justin Bieber. Perhaps you've heard of him. Luckily for the ears of those attending, the piercing jet screams of his fans were not heard as he did not make an appearance.
It was off to Roy Thomson Hall then for the gala premiere of Argo. Directed by, and starring, Ben Affleck, Argo tells the real-life tale of how the CIA and the Canadian embassy in Tehran worked together to smuggle out six U.S. diplomats hiding there during the Iran hostage crisis. The film is based on a book by the CIA agent that Affleck portrays and there are some initial rumblings that the film downplays the Canadian involvement, which is a risky thing to do when the curtain is rising on the film in Canada itself. Of course, those involved use the usual disclaimer that the film is "based" on true events and is not meant to be taken as gospel.
From a shooting point of view, with Affleck, Tate Donovan, Victor Garber, Alan Arkin, John Goodman and Bryan Cranston in attendance, the carpet was all suits and ties, that is until Affleck's wife, Jennifer Garner, showed up to lend the event some sex appeal and glamour.
From Argo, it was off to the Elgin for the premiere of writer-director Sally Potter's Ginger & Rosa which traces the shattering of a tight friendship between two teenage girls as political unrest and the sexual revolution are just beginning to bubble to the surface. Potter told reporters on the carpet that the film's setting, 1962, was a transition period; not quite the Sixties as we think of them but still not as buttoned-down as we imagine the Fifties. Her casting process for the two girls had her seeing almost two thousand actresses before deciding on Elle Fanning and Alice Englert. Potter also had high praise for Alessandro Nivola and Christina Hendricks. She said Nivola tackled his difficult role with courage and grace, while Hendricks brought to her performance a great combination of strength and vulnerability.
It was then back to Ryerson for the premiere of Frances Ha. Directed by Noah Baumbach and co-written by him and the film's star, girlfriend Greta Gerwig, Frances Ha is about a dancer who is trying to find her way in the world after her relationship with Sophie (Mickey Sumner) ends and she begins couch-surfing and soul-searching.
At the screening's Q&A, Gerwig said that though the character of Frances isn't her, she began to discover that she was always inside her and that the writing process with Noah helped to give the character inside her a voice.
[UPDATE: Imogene was renamed Girl Most Likely in December 2012.]
TIFF Day Two Photo Galleries