37th Toronto International Film Festival Coverage: Day Three
September 8th, 2012 – by Ian Evans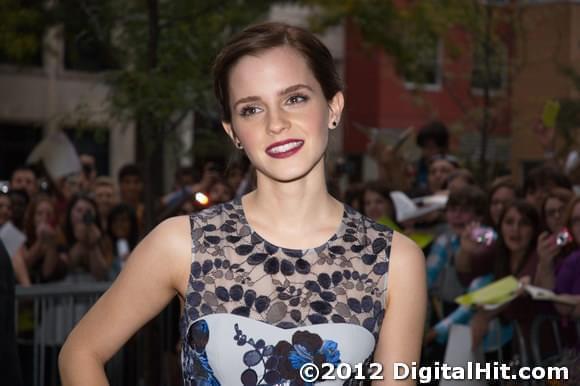 Emma Watson poses at the premiere for The Perks of Being a Wallflower. ©2012 DigitalHit.com. All rights reserved. Photographer: Christine Lambert
Day three started off at the Princess of Wales Theatre for the premiere of Hotel Transylvania, which features the voice talents of Adam Sandler, Selena Gomez, Andy Samberg, Kevin James, Fran Drescher, David Spade and Molly Shannon. It tells the tale of Dracula as he tries to keep his daughter safe from the outside world by running a monster-friendly resort, only to have that sanctuary threatened when a human backpacker stumbles into it.
The voice actors and director Genndy Tartakovsky had previously taken part in a press conference at the Lightbox. Andy Samberg said the fun thing about the voice acting was that it was one of the rare acting jobs where he was told to make his choices even bigger and more outrageous. Fran Drescher, possessing one of the most distinctive voices of the cast, was asked how she perfected her voice. She said, "Who could make this up? I didn't perfect it. I was born with it and figured out how to monetize it."
The cast was joined on the red carpet by costumed versions of their characters and the family theme of the premiere was reinforced by Gomez carrying her boyfriend's little brother, Jaxson Bieber, as she walked down the red carpet.
A few blocks north of the PoW, the Much Ado About Nothing premiere was getting underway at the Elgin. Directed by Joss Whedon and starring a large ensemble cast featuring Nathan Fillion and Amy Acker. Acker told reporters on the carpet that the Shakespearean role of Beatrice was one that she had dreamed of playing for a long time and loved the fact that she was strong and funny. Fillion, who has worked with Whedon on several projects, called the director "a fantastic employer, a generous mentor and an amazing friend."
Continuing our travels in the downtown core, we headed back up to Ryerson, where fans were camped out to see Harry Potter star Emma Watson in The Perks of Being a Wallflower, which is based on the Stephen Chbosky novel. Chbosky also directed. Cast member Nina Dobrev, who's currently starring in the series Vampire Diaries, was having a bit of a homecoming as she lived and worked in Toronto while appearing in Degrassi. She said that the coming-of-age story had its heavy and light moments, which is just like the high school experience, adding that "You just gotta plow through. It'll get better."
Heading back south to Roy Thomson, it was time to cover the gala premiere for Silver Linings Playbook. Directed by David O.Russell, the film stars Bradley Cooper, Jennifer Lawrence, Robert De Niro, Jacki Weaver, Chris Tucker and Anupam Kher. Kher, an Indian film veteran, told reporters on the carpet that the cast was a dream team and that he would have given his left arm if necessary to work with them. He referred to De Niro as "the god of all actors." Weaver had fun playing her character, calling her a "salt of the earth, Philadelphian working class mother" who has to keep her family together while dealing with a bipolar son and an obsessive compulsive husband.
After a bit of a break, we headed back up to Ryerson to cover Thanks for Sharing. Gwyneth Paltrow, Mark Ruffalo and Tim Robbins star in this film about a group of people who deal with each other as they join a support group to overcome their sex addictions. Paltrow hoped the film would help shed some light on the subject, which some deny is a real mental illness. "There is a line in the film where someone says, 'Isn't sex addiction just an excuse that men use when they get caught cheating?' but actually it's a real pathology," Paltrow told reporters covering the premiere.
We ended the night where we started, back at the Princess of Wales for the premiere of End of Watch, which stars Jake Gyllenhaal and Michael Peña as two LA cops who find themselves on the lam, chased by drug dealers, after they make an unexpected discovery during a routine traffic stop. Jake and Michael were joined on the red carpet by fellow castmates Natalie Martinez, America Ferrera and Anna Kendrick, as well as the film's writer and director, David Ayer. Michael Peña told reporters that he was attracted to the story because there was no sidekick in it. In other words, he felt that neither he nor Jake had the dominant role and that the characters took turns being there for and supporting the other one. This camaraderie was an important theme for all involved. David Ayer said this bond, found most often in law enforcement and the military, is a strong one, adding, "When you run towards gunfire with somebody else, you end up becoming homies."
And that's a wrap for day three of the festival.
TIFF Day Three Photo Galleries